Hostel Management Opportunity of a Lifetime for the Right Person 
I'm searching for someone… do you know them? 
This person is incredibly friendly and ridiculously outgoing. If they're traveling on a bus with 50 people, they'll know half of them before they reach their destination. They get energized by interactions instead of depleted and have an insatiable curiosity about others. They're far more Energizer bunny than Netflix, but also know how to take occasional solo time to recharge. 
They are a world traveler extraordinaire, finding excitement and curiosity in the cultures of others, and aside from the occasional splurge, they're all about spending money on experiences over things. They're ready to jump on a plane at a moment's notice because life is short, the world is big, and the majority of their stuff fits in a backpack anyway. They carry their passport like a badge of honor, and they are the first person to ask how to stretch a budget in any location.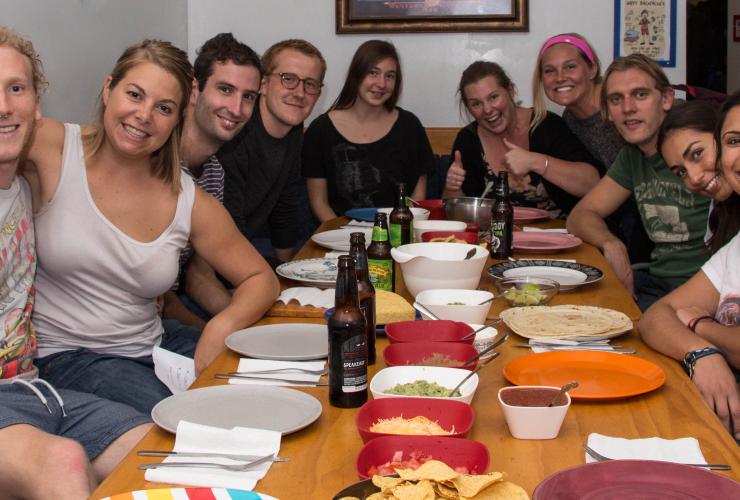 They are obsessed with hostels. They're the friend that comes back from their travels and won't shut up about all the cool people they met, the unique quirks of each place they stayed, and lovingly moan of memories of the snoring guy above them or the plastic bag rustler at 5am, because at the end of the day the amazing traveler community is where their heart is. 
They also know hostels deeply from the other side, and despite some of the craziness of working in them, love them all the more! 
From the constant customer service (and always being "on", even when not working) to the occasional toilet plunge and being asked the same 5 questions 2846 times, they know the headaches of crazy hostel life are nothing compared to the fulfillment that comes from offering travelers the experience of a lifetime. They know how to appear eternally cheerful, even when they don't feel like it on the inside. 
They most likely have dreamed of opening their own hostel one day and are invigorated by the opportunity to learn all the ins & outs of running a hostel business.
They are meticulously organized, understand that time management is a never-ending goal, and that organized chaos is a very real thing. Whether it's running an entire hostel or working on a project, they know that a good job completed is better than a perfect job still waiting to be finished, and know how to triage, prioritize, & get shit done efficiently and effectively.
This person is a proactive self-starter who is great at identifying what could be improved but even better at finding solutions without being asked. They're not afraid to dive right in, and get their hands dirty when needed.
At the same time, they are eager to learn, open to feedback, and constantly working on improving their management, organization, and leadership skills.
This person is well adept at wearing multiple hats, often at the same time.
They know how to be the life of the party while also keeping a watchful eye that Tipsy Tom doesn't do anything stupid. They know how to encourage enthusiasm & camaraderie among the staff and hostel community while also maintaining leadership. They know how to put customer service as the #1 priority while also fixing problems unobtrusively in the background.
They thrive in out of the box environments, and the thought of doing just one job or task sounds awful.
Does this sound like you?? If so, read on! 
I'm searching for my next rockstar manager for San Francisco's #1 hostel.
Here's more about the hostel & the position:
My hostel is super small (30ish beds), incredibly social, and has a reputation that precedes it. We've been operating independently for over 27 years and consistently receive praise for being the best hostel experience a traveler has ever had.

We aren't flashy. While we have all the modern amenities like power outlets in lockers and fast wifi, in many ways we're old school. We prioritize fun, genuine connections over stale small talk, community over competition, and the sign over our reception reads "Be excellent to one another."
Our mantra is that there are no strangers here, just friends who haven't met yet. We are passionate about inclusion and take pride in bringing in the outliers and shy people right along with the extroverts. We learn names quickly, introduce people to each other, and our guests frequently feel like they've known each other for a few days instead of a few hours. 
At the heart of all of this is the super friendly, high-energy, dynamic manager.
In addition to encompassing all of the qualities above while inspiring and maintaining our unique social atmosphere (even on those days when you don't feel like it), the manager is responsible for keeping the ship afloat and on course.
This includes all day to day operations of the hostel, overseeing cleaning, leading staff & housemates, helping guests, organizing events & activities, proactively marketing, basic bookkeeping, putting out fires while maintaining systems, ensuring guest safety, and much more.
I thoroughly enjoy teaching and mentoring my managers in business & entrepreneurship, especially those who are interested in owning their own hostel, but I'm also spread thin with other projects. We will meet weekly but being a proactive self-starter is a must.
While the role does include numerous responsibilities and a lot of hard work, it is far more of a lifestyle position than a typical job.
There is no clocking in or out, or set shifts (aside from reception). Rather, it's up to you to ensure all systems are running properly and smoothly. Sometimes that means easy work and lots of free time. Frequently that means working at odd hours or being interrupted from a project to fix something urgently, resulting in a never-ending to-do list. 
Having itinerant travelers help out from time to time means both a consistent injection of fresh energy to the hostel atmosphere (making your job easier), and also means regularly training or fixing issues (making your job challenging). 
The amount of freedom & flexibility is largely tied to the implementation of systems and processes, so the best managers understand the importance of fixing and maintaining these regularly. That said, this is a live on-site (in the manager's private room/office) and an on-call position. 
While you have the freedom to take a yoga class midday or go bike Golden Gate Bridge with guests, you are also on call 24/7. You are very much the anchor to our small ship and that means putting the hostel community first & being available when needed.
The hostel will become your life for the year, the guests & housemates will be your friends, and San Francisco adventures will be your travel, but if you ask our past managers most will say it was one of the most fun and rewarding experiences of their lives. They frequently come back to visit and a few have even returned to the role after traveling again.
So, if you have experience managing hostels, or significant experience working in hostels PLUS other management experience, is you encompass all of the qualities above, and are ready to be dedicated to a challenging lifestyle position with incredible benefits, I can't wait to hear from you. 
ADDITIONAL JOB REQUIREMENTS:
International Travel Experience 
Experience working in hostels (volunteer or paid- preferably management)
Extremely friendly and outgoing personality
Strong English communication skills (written and oral)
Other languages are definitely a plus
Proficiency with computers (making signs, doing online marketing, and maintaining the hostel's online social media exposure)
Knowledge and love of San Francisco and a desire to share this beautiful city with others
Outstanding work references
Ability to live on-site in the manager's office/room and commit the position for at least a year
This is a salaried position with profit-sharing so you should have U.S. citizenship or working authorization.
The position will begin on October 1st  (if not sooner) so you must in San Francisco by this time. 
To apply, you MUST include a cover letter clearly outlining:
Your hostel work experience
Why you LOVE hostels
Why this position is the perfect fit for you
A clear understanding of the position and the type of hostel  
Anything else that makes you stand out and shows your personality (links to social media are great too!)
We get dozens (if not sometimes a couple hundred) of applications any time we search for a new manager, so make yours count! 
Our hostel is also the headquarters and test platform for HostelManagement.com so please submit your application to me (Darren) via email: darren [AT] hostelmanagement.com.  Interviews will start approximately August 10th.