Bangkok Desk Position - No maid work.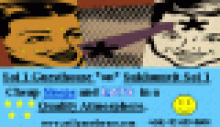 DATELINE BANGKOK - the city that is never boring- 24 hr a day
-40 bed hostel- needs English speaking desk staff. 6 - 8 hr days a week. Relaxed Atmosphere, Free rent, laundry, Internet and a few other perks.
If you are interested in learning about Bangkok and Thailand and then are able to share this info with Guest, Have a bit of computer knowledge and can make a Scotch and coke, Then you might want to send me an e-mail (
[email protected]
) mentioning the dates you may be available along with any other questions you may have, and I will respond with further details.
Thats all thats needed, but having 1 or more of these further qualities will help.
Bombastic, outgoing, well traveled, past hostel experiance, multiple languages, easy going, a Real interest in people and next weeks winning lotto numbers.
We are looking to schedule staff from now thru March of 2011.
If your interested in this position I'll be seeing your e-mail soon.
Cheers,
Soi1david
P.S joking about the lotto numbers
HOSTEL NAME
OPPORTUNITIES AVAILABLE
Job first posted: 22 October 2010