CUSTOMER MANAGER OF LIDWALA BACKPACKER LODGE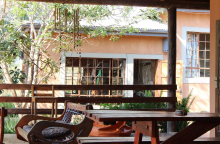 Position:
CUSTOMER MANAGER OF LIDWALA BACKPAKCER LODGE for a 2 YEAR period (renewable for a third year) starting May 2015.
Package:
Live-in position with food and accommodation provided, plus a basic pay of R3,000 per month plus a profit share incentive with the opportunity to earn a further R7,000+ per month.
Requirements:
- A friendly and sociable nature and experience with managing people
- Experience with backpacker travel in multiple countries and hostel management
- Experience with managing challenging operations with minimal supervision
- Skill in marketing, advertising and sales
- A diploma or degree in hospitality or similar qualification
- A valid manual driving license of at least 3 yrs
- Excellent Computer skills (word, excel, internet, email, social media)
- Experience with booking system management
- Willingness to work flexible hours including evenings & weekends
- Skill in cooking well and organizing food would be beneficial
- An interest in humanitarian and environmental work would be beneficial
Applications:
Please send a motivation letter and resume/CV as an application to
[email protected]
by 9th April 2015.
LIDWALA BACKPACKER LODGE (www.lidwala.co.sz) is run by ALL OUT AFRICA, an organization that operates in Swaziland, South Africa and Mozambique and runs a range of different wildlife and community experiences (www.alloutafrica.com). LIDWALA was launched in late 2005 and has become "the best backpacker lodge in Swaziland" according to hostels worldwide and has won a tripadvisor global top 10% excellence award. It also serves as the main accommodation base for All Out Africa volunteers on working holiday experiences in Swaziland. You would work with 2 assistant duty staff and two rotating cleaners to operate this 36 bed hostel.
Nestled at the base of Sheba 's breast mountain with a view over the Ezulwini valley and Mdzimba hills, Lidwala Backpacker Lodge sleeps up to 36 people in dorms, luxury tents and twin rooms. All rooms have a verandah. Some rooms are en suite, and there are communal showers and toilets plus a campsite. There is a TV lounge with board games and a large deck with swimming pool and outside seating area. There is also a self catering communal kitchen with all the necessary amenities as well as a spacious communal braai area. Situated among large boulders (hence it's name), big indigenous trees and a flowing stream the gardens are extensive and offer plenty of space for camping and there is a 3 hour hiking trail on the property.
There is potential for future expansion plus development of the marketing and tour bookings.
The Lodge is conveniently located on the main Ezulwini road within walking distance of most of Ezulwini's main facilities & attractions (craft markets, the Gables shopping centre, restaurants, golf course etc). The lodge's unique selling points are: it's convenient central location, it's scenic views and extensive indigenous gardens, it's creative design and feel.
As Customer Manager of the lodge you would work hand-in-hand with the Administrative Manager and be responsible for the running of the lodge. This would include the following activities:
• Boost income & control costs to maintain a profitable business
• Supervise the assistant staff and cleaners
• Market the lodge & maximise sales
• Organise the maintenance of the facilities to stay cutting edge
• Oversee front-of-house, reception, bookings etc
• Welcome guests
• Ensure an excellent guest experience
• Encourage an attractive vibe through appropriate activities, events & guests
• Oversee security & a constant staff presence at the lodge
• Oversee food shopping and cooking of meals and manage a food budget
• Oversee the accommodation of volunteers & support them in their living needs
• Make tour/activity bookings for guests with commission
• Oversee the cleaning of the lodge & linen
• Organise Lidwala equipment use & maintenance
• Maintain & enforce the rules of the lodge
HOSTEL NAME
OPPORTUNITIES AVAILABLE
Job first posted: 01 April 2015