Hostel Manager wanted - New Large Aberdeen City Centre Hostel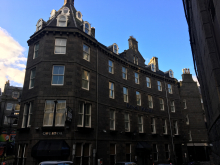 We have a new hostel opening in Aberdeen City Centre and are looking for an experienced, dynamic and enthusiastic manager/couple to run this new venture. With 42 existing rooms, many of which will be bunked to provide accommodation for up to 160 guests and a full commercial kitchen, large dining area and pub/cafe on the ground floor this is an exciting and challenging project. We are currently planning out the refurbishment and looking for a competent hostel manager to get involved throughout this process and open their own new place. We have extensive knowledge of the city and providing both long and short term accommodation within it and have a high demand for this product and are looking for the right manager to run this new venture.

**Must have right to work in the UK

For more details please contact us to discuss.

HOSTEL NAME
HOSTEL LOCATION
1-3 Bath St, Aberdeen AB11 6BJ, UK
Job first posted: 15 May 2018
Updated: 15 May 2018