It's A Colorado Jungle!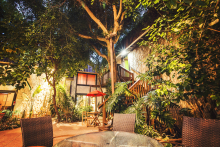 We are a laid-back hostel located in the college town of Fort Collins, Colorado. We boast a jungle atrium in the courtyard of our building that is great for relaxing and hanging out.
We are looking to add to our team! Accommodations offered is a bed in our staff co-ed dorm for an exchange of some housekeeping and/or concierge work. English proficiency is a must and knowledge of Spanish is a plus.

HOSTEL NAME
HOSTEL LOCATION
706 East Stuart Street, Fort Collins, Colorado, 80525
Job first posted: 22 August 2019
Updated: 22 August 2019