Looking for Staff. Work-Learn-Drink-Repeat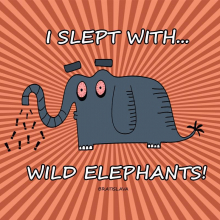 We are running two old-fashioned fun and social hostels in the heart of Bratislava, Slovakia. What does it mean? It means, that our staff is made up of travelers stopping by and providing new arrivals with food, local tips, adventures and a good atmosphere to create a community of travelers. Our places are well-balanced backpackers/party hostels. One more party, one more chill. We are very open-minded and of course gay friendly. Obviously there is Wifi in the hostels and two hostel puppies come over to visit us every day. The Wild Elephants Hostel is located in the historical area, right next to a monument and underneath big trees. The Urban Elephants Hostel is located in the modern center of Bratislava, it lays only a few steps away from the pedestrian zone of the old town. All the sights of the city center are within walking distance.
During your stay you can gain experience in many fields, including how to run a hostel, organize events and lead people. You can get many useful and memorable connections from all around the world and you will become part of our small family of brothers and sisters. It is a good opportunity to learn about Slovak traditions and history and practice the language (like ordering beer and Borovička ;)). We will show you the city, the best places to get a beer, to relax, to visit and see.
While working here you will need to welcome and socialize with our guests, share your thoughts and experiences, bring in your creativity and talents, and organize events, parties, trips, dinners, etc.. You will be required to do many different tasks, such as reception work (check-in and check-out of guests, handling bookings) and housekeeping (changing beds, doing laundry, cleaning the kitchen, rooms, common areas and bathrooms). The Volunteers are accommodated in one of our mixed dormitory rooms exclusively with other members of the staff. We provide all your food in exchange for your help in the hostel. In the evenings there are vegan dinners where everyone is coming together and talking about the experience of the day.
For the free accommodation and free food a volunteer has to help us out for 25 hours a week. We prefer staff to stay for at least a month as reception training itself takes a week. Sometimes we can discuss a shorter stay if you are okay with cleaning only or if have any special talent to bring in. Your level of English should be fluent. If you smoke that is no problem for us. We do not accept couples or couples of friends.
We offer our Volunteers different ways to earn some pocket money on the side. This includes cooking vegan dinners for the staff and our guests and running our famous drunken heroes pub crawls through the nightlife of Bratislava.
By really carrying about the hostel and doing some extra work, we are not blind (always checking on the staff) and if the motivation is persistent and last for more than a few weeks we always offer reception-only work that is paid and you will be responsible to check on the cleaningness and volunteers work that has to be done instead of doing it only by yourself (just giving a shit in general), but most importantly to make sure the volunteers pay very close attention to our guests (and by that we do not mean only those they are sexually interested in).
Despite the fact that the work has to be done properly, you will have a great time here and meet a bunch of cool people during your stay, learn new skills and experience yet unexperienced situations. Just take a look at our Instagram accounts! #wildelephantshostel #urbanelephantshostel #drunkeheroesbratislava :)
If you are interested please email us here:
[email protected]
First please tell us about yourself and about your motivation to volunteer for us because we have many applicants so please make it short and right on the point (essays of 1000+ words are also accepted but not sure we have time to read them)
We have a team of about 30+- volunteers from all over the world and 6-10 paid "volunteers"(each hostel) at a time which is constantly changing so feel free to contact us any time. If we are in need of someone at the moment we will get back to you as soon as possible.
HOSTEL NAME
OPPORTUNITIES AVAILABLE
Work Trade/Exchange
Volunteering
HOSTEL LOCATION
Námestie SNP 5, 811 06 Bratislava, Slovakia
Job first posted: 25 September 2018
Updated: 25 September 2018
*This Hostel is willing to provide training