Ostello Bello Genova is looking for you!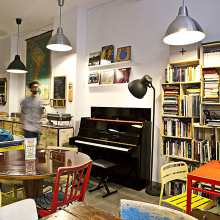 Ostello Bello is a fast growing chain with 5 hostels in Italy (Milan, Como, Genova and Assisi) and 4 in Myanmar (Bagan, Inle Lake, Mandalay), awarded in 2019 as Best Hostel Chain in the world.
We are looking for enthusiastic reception staff, willing to work in our brand new hostel (Ostello Bello Genova) and ready to give the best hostel experience ever to our fantastic guest.
- Receptionist ( full time)
Minimun stay: 6 months
Fluent English + Italian(intermediate level).
Experience in hostels as staff or workaway is required.
We are looking for very passionated and hard working people to join our crew in Genova.
Please fill the form at jbttr.com/3X4 or send us an email at
[email protected]
with your CV and specify "Genova" in the subject if you think you are the one!
HOSTEL NAME
HOSTEL LOCATION
Via Medici, 4, 20123 Milano, Italy
Job first posted: 12 July 2019
Updated: 12 July 2019