SameSun Silver Star hostel manager wanted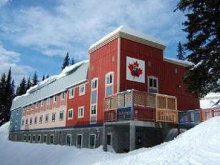 JOB TITLE: Manager SameSun Backpackers Lodge – Silver Star.
Dan and Emma own and operate the hostel at Silver Star Mountain Resort. The hostel is located 150m above the village at Silver Star with access to the lifts from our back door. The hostel has 43 rooms and can sleep up to 150 people with a mix of dorm and private rooms. Employment will be year round although there are 2 main seasons of operation (winter and summer). You will live on location in the self contained, furnished manager's suite which will be a part of your remuneration.
OVERVIEW
The Hostel Manager is responsible for all aspects of hostel management in accordance with SameSun policies, procedures and mission statement. The manager is also responsible for ensuring that the property is supported and working to provide accommodation and services that meet both the customer's needs and SameSun's standards.
KEY RESPONSIBILITIES
1. Providing day-to-day "hands-on" leadership to hostel staff and sets the example for staff to follow.
2. Maintaining a "hands-on" management style through the completion of duty shifts and service assistance.
3. Monitoring and managing the operations to ensure we are responding to guest demand.
4. Engaging in regular communication with Dan, Emma, other SameSun managers and executives.
5. Maintaining high levels of visitor satisfaction and efficiency of service delivery in all areas of the guest experience.
6. Maintaining product, service quality and safety standards by conducting regular inspections (including staff quarters), investigating complaints and initiating corrective action.
7. Training and supervising employees to ensure their assigned responsibilities meet SameSun standards and the expectations of guests.
8. Ensuring all SameSun staff receive an appropriate orientation and are trained on hostel policies, procedures and service standards.
9. Ensuring any performance-related incidents are accurately documented.
10. Resolving conflict in the workplace as it arises quickly and as thoroughly as possible.
11. Ensuring established procedures are followed for employment terminations.
12. Monitoring and maintaining risk management policies and process to ensure the security of the property's assets, guests and staff.
13. Identifying and developing appropriate new revenue opportunities within the hostel to the benefit of the guest experience.
14. Maintaining good will with our neighbours by taking an active role in the
community and liaising with local organizations.
15. Working to deliver the complete SameSun experience by ensuring hostel events and activities are developed, implemented, and promoted to all our guests and staff.
16. Performing other related duties as required.
REQUIRED KNOWLEDGE, ABILITIES AND SKILLS
1. Ability to communicate effectively (oral and written).
2. Ability to understand the needs of guests and staff.
3. Ability to remain composed during high-pressure situations.
4. Skilled in time management and organization techniques.
5. Ability to provide excellent customer service.
6. Knowledge of effective conflict resolution techniques.
7. Basic human resources knowledge (familiarity with provincial employment standards)
8. Ability to develop and maintain an effective filing system.
9. Knowledge of risk-management in an accommodations setting.
EXPERIENCE
1. At least 2 years previous supervisory/management experience.
2. At least 5 years previous experience in the tourism, service, or hospitality industry.
3. Wilderness hostel management experience is a strong asset
4. Some management of food and beverage facilities.
5. Any experience in a professional field is an asset, especially sales and marketing.
6. Property management system experience.
EDUCATION/CERITFICATES/TRAINING
1. Knowledge of SameSun policies and procedures (provided if you haven`t worked for SameSun in the past).
2. Knowledge of the specific functions in each department.
3. Intermediate computer training – knowledge of MS Office, Word, Excel, Outlook.
4. Any formal business/management education is an asset.
CRITICAL SUCCESS FACTORS
1. Positive attitude, and friendly, self-confident nature.
2. Patience to deal calmly with continual demands of customers and staff.
3. Confident in taking on a leadership role.
4. Assertive, yet fair management style.
5. Ability to lead a team and build consensus.
6. Ability to make quick, appropriate decisions.
7. Alert mind with an attention to detail.
8. Ability to cope with stress.
9. Comfortable working a flexible schedule.
10. Physically fit to perform job without injury.
Above all have fun running our hostel!
If interested please send email to
[email protected]
HOSTEL NAME
OPPORTUNITIES AVAILABLE
Job first posted: 06 September 2014