SUMMER ON BEACH IN CROATIA?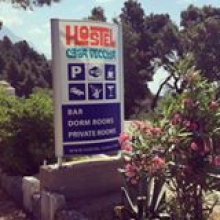 HI!

I am Laura, my boyfriend Greg and I manage/ own a hostel on the coast of Croatia in a little charming town called Brela. We are looking for a person/ or a couple of people who are laid back, fun, easy going but also like to gt things done to help us run the hostel this summer. We are looking for someone willing to do some or all of the following: bar tending, cleaning, and reception. We have a 4 year old daughter so having childcare experience or interest is a plus, babysitting would be a paid position.

We are a small hostel with only 20 beds so there will be lots of beach time!! At night a lot of the guest and locals hang out at the hostel bar therefore there is opportunity to make some tip money when working the bar. We are only open from early July - early Sept and we are flexible with the dates that you would be able to work.

It is really a great experience with trips to the mountains, booze cruises, pristine beaches and beautiful people! We are very laid back people that like to have a good time and show our guests and staff one as well!

We are currently looking for a couple of people that can work immediately, Thanks!

ciao!
HOSTEL NAME
HOSTEL LOCATION
Breljanska cesta 40, Brela, Croatia
Job first posted: 08 June 2017
Updated: 08 June 2017
THIS HOSTEL IS LOOKING FOR TRAVELLERS WITH THE FOLLOWING SKILLS
Bartending
Greeting / Helping Travelers (Concierge)
Hostel Cleaning / Housekeeping
Hostel Reception / Front Desk
Murals & Art
*This Hostel is willing to provide training