Volunteer on the coast in Croatia summer 2020!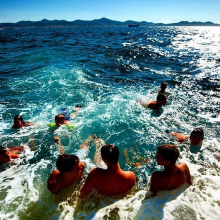 STAFF STILL NEEDED FOR OUR 2020 SEASON!!

Two top rated hostels in Zadar, Croatia are searching for enthusiastic, fun and outgoing individuals to work in a spirited environment. The Monkey Hostels chain are seeking 6 volunteers to work alongside our full time staff towards everyday tasks & activities for our 2020 season. If you have any interest in hostels, people or beautiful locations you need look no further...

We are looking to fill a positions starting in April until potentially mid October. Please note ladies and gents, our volunteer positions are unpaid. From the experience of others it is very important you have some funds in your pocket before you arrive for your provisions and entertainment.

We prefer longer term volunteers who want to stay around 3 months, but others can still apply as sometimes we do accept short term workers.

**Those holding EU passports may also apply for paid work here as receptionists but with different working terms.

What we offer you:

- Free accommodation in the hostel
- Discounted drinks from either of our hostel bars
- Free smoothies
- Coffee and Tea on the house
- Free BBQ meals once a week (late spring/summer only)
- Free transport on all Monkey hostel tours to Croatia's National Parks
- Two days off per week.
- Company incentives

The Monkey Hostels are positioned on the Adriatic coastline and their locations allow volunteers to explore the surrounding area during down time and on days off. Hike the Velebit mountains, swim the crystal clear waters, work on your tan, enjoy drinks with our guests at amazing waterfront bars and indulge in the delicious cuisine the country has to offer. We have many returning volunteers each year, this should be guarantee enough that you won't be disappointed.

It takes less than a few minutes to apply for our positions. Connect a CV with age and experience listed, a recent photo, and the period of time you are interested in helping us out. We look forward to sharing our experiences together.
HOSTEL NAME
OPPORTUNITIES AVAILABLE
Volunteering
Paid Hostel Staff
HOSTEL LOCATION
Bregdetti ul. 14A, 23000, Zadar, Croatia
Job first posted: 08 March 2019
Updated: 08 March 2019