Want to visit the south of Chile?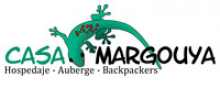 Hola
We are a nice and colorfull hostel in the south of Chile, Who is looking for a new Recepcionist for this winter 2013 (Jun, July, August)...
We can offer you acommodations,a bit of cash and lot of funn.... Working 5 days, 8 or 9 hours per shift.
We' re looking for a Recepcionist but we also need someone how have experiens in adventure sport....
Requisites: bilingual english-spanish, responsible,outgoing, punctual and pleasant....
If you are interested please send us your resume to
[email protected]
Kss and Hope hear from you soon!
:)
Came to know this major and magic place.
Check our web www.margouya.com
Casa Margouya
Puerto Varas
Chile
www.margouya.com
HOSTEL NAME
OPPORTUNITIES AVAILABLE
Job first posted: 13 January 2013