Work for accommodation in the worderful city of Porto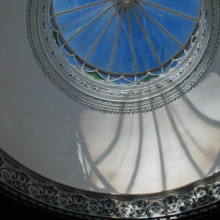 We are Alma Porto Hostel, a new Hostel with only 6 months in the lovely city of Porto.
Porto is a city where you can be busy all the time all year. We have this great mild weather in a place with stately history and culture that began around 2000 years ago (the old center is classified by UNESCO as a heritage area). You can enjoy its architecture, since the roman times till the contemporary. There is the Douro river where you can enjoy the view, and of course there is also the deep blue of the atlantic sea. Beside all this we also have one of the most famous wine in all world...the Porto Wine.
About the hostel, we are a chilled hostel in a house older than 100 years. There is a lot of history around here too. You can still see a few signs of how the house was ruled through its time. We have a place with smooth colors, with old tiles and old handmade ornamented ceilings, with a skylight, a big great outside area...
We are looking for hard working, responsable, relaxed, nice and smiling people to work with us. We have two available position for a multitasking daily work. You have to be able to work by shifts, and the tasks are mostly working at the front desk and cleaning, among other small things. You will have to work for about 6 hours daily with 2 days off. The daily time will be managed according the interest of all. THIS JOB WILL NOT BE PAID. Instead we will provide a room with one bunk only for the staff, free breakfast and some grocers as well. This job offer is for 2 weeks minimum and we have the right to short or extend it(with mutual agreement)depending on your performance.
If this is the right job for you and you thing you will fit in our demands, please send us your CV with photo by mail to
[email protected]
Best regards
The owners:
Guilherme e Armando Caldas
HOSTEL NAME
OPPORTUNITIES AVAILABLE
Job first posted: 19 December 2012