Work in a new Hostel in Salvador Bahia Brazil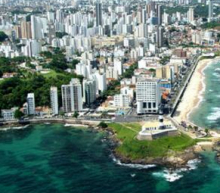 I will be oppening a hostel in one of the main turistic cities of Brazil, Salvador, third largest citie in the country , and the land of Carnaval. I am looking for young people that want to work with us for 1-6 months. The hostel will be oppening between July-September in Salvador's most fashionable squares called Barra, which boasts some of the best restaurants, clubs and music bars in the area.
Just steeps from the hostel you will be in the ocean drive, where the biggest Carnaval in the world happens in the month of February, and diferent parties all year around.
It will be a very nice hostel and we are already looking for great people to help us and enjoy the Brazilian culture. We will provide a room, meals, and some money as well. You don't have to have any experience in a hostel before, you just have to love serving people, enjoy diferent cultures and be very open mind. If you want to have a great experience overseas in a safe environment, you will be very welcome.
If you want to have more information about this position and you are avaliable to work with us after September, please send me an email,
[email protected]
You can check on google picutures how the neighborhood looks like typing BARRA SALVADOR BRAZIL
Check also amazing places to visit in the same state:
CHAPADA DIAMANTINA A national park with lots of waterfals and caves. The second most visited eco place in Brazil after the Amazon.
ABROLIOS-The Abrolhos Archipelago are a group of 5 small islands with coral reefs off the southern coast of Bahia state. Lots of wild life and an incredible place for diving
MORRO DE SAO PAULO - A great island close to Salvador with a very nice village and great parties.
HOSTEL NAME
OPPORTUNITIES AVAILABLE
Job first posted: 08 January 2015