YOGA teacher, Kayak tour guide & event planner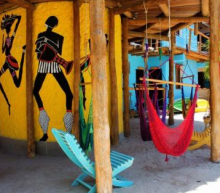 We're looking for workers/volunteers, available from april.
About 24h/WEEK in different area (yoga, laundry, activities, kayak tours)

www.tribuhostel.com

We offer you:

-Accomodation in our apartment or hostel
-access to the kitchen
-cinema
-internet (wifi)
-discounts at the bar
-and great atmosphere !

come and enjoy some sun and beach on ISLA Holbox!

Please let us know if you are interested.
Send a short description about yourself, c.v. and inform us when would it be possible for you to come to Holbox, also a contact number and a picture if possible.

We're looking for volunteers all the year, you can contact with us later if you're not available now!

see you soon!

Mia & Davidhello!
We run a hostel and we are curious!


HOSTEL NAME
OPPORTUNITIES AVAILABLE
Job first posted: 21 March 2013