Macgabhainns Backpackers Hostel in Kilkenny....Ireland..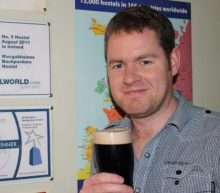 Hi I am looking for a friendly person to help out in my Hostel for up to 4 weeks and perhaps longer after 4 week trial starting as soon as possible.PLEASE NO EMAILS ABOUT WORK FROM THE MONTH OF MAY AND ONWARDS I DONT PLAN THAT FAR AHEAD...3 hours work a day which includes light cleaning of the dorms and bathrooms,kitchen and common room.In exchange you will recieve a clean free bed in a dorm,free breakfast and also free wi-fi.We are a very relaxed and laid back 32 bed hostel here in the heart of Kilkenny city in Ireland.
Please find us on Hostelworld.com.
To apply for this job,please find me on
[email protected]
and also email me with details and the date of when you are available.
Our Hostel website is www.macgabhainns-backpackers.hostel.com.
HOSTEL NAME
OPPORTUNITIES AVAILABLE
Job first posted: 22 February 2011