Hostel Management Unconferences
Hostel Management Unconferences are the "conferences" (or non-conferences) of HostelManagement.com
Here is a small 'taste' of what a recent, sold-out Madrid Unconference was like as described by the participants:
Origins
A recurring sentiment has resonated through the hostel industry regarding formal conferences: that the most valuable part of most conferences is not the content of the presentations, but rather the professional networking opportunities and the small discussions held over a pint of beer after the event.
As a result, Hostel Management decided to organize informal events where podium presentations and sales pitches are replaced with small group discussions among owners and managers. We placed an emphasis on collaboration and the sharing of experiences for the benefit of all hostels involved. Together we are improving our hostels and defining the best practices for our industry.
The result is the Hostel Management UN-Conference.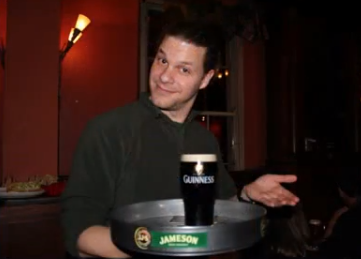 Share hostel ideas over a beer
Unconference Format
The format of a Hostel Management Unconference consists of small group discussions facilitated by someone from the HostelManagement.com team (Usually our Community Manager Rucksack Brian) -- picture something like the HostelManagement.com forums but in person!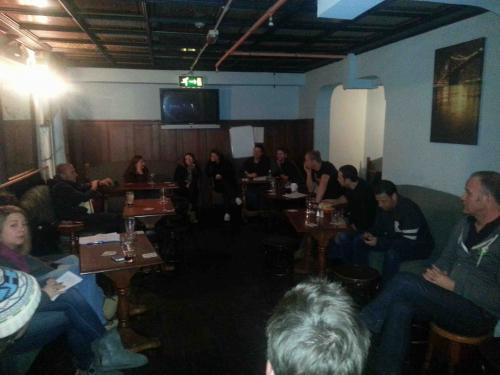 Unconference participants discussing hostels
The Unconference is an opportunity to meet other hostel managers and talk about issues that affect hostels. See the Hostel Management Forums for ideas. (e.g., cleaning and maintenance, finding staff, marketing on a shoestring, increasing occupancy, booking engines, the future of hostelling, hostel networks, etc.) The group will decide on the discussion topics before the Unconference.
Each Unconference is organized around a 2.5-day format, including an informal welcome event on the first night and two days of discussions, cultural exploration of the host city, and plenty of networking. Some Unconferences may include additional days of sightseeing, touring, and networking, so you might want to give yourself a few extra travel days before heading home.
Who Should Attend?
In order to make sure that there is enough room for all the hostels that want to attend, the initial registration is open only to hostels. Each hostel may send two people. If you are not affiliated with a specific hostel and would like to attend, please contact us with information about yourself and why you would like to attend the Unconference.
Space is limited. Please register early to guarantee your spot!
Expectations of Participants
An Unconference is not a conference, but rather a participant-driven and informal group discussion. The organization of the event is collaborative. There are NO presentations at Unconferences, and all information is passed on through group interaction. This is not a spectator sport. Just like in the Hostel Management Forum, we can only learn from each other if we are all willing to share. To ensure that the content is valuable for you, please submit the topics that you would like to discuss when you register for the event. Topics proposed by other attendees will be sent out in advance of the discussions as well. Please look over all of the suggested topics and collect your thoughts so that you can participate in the discussions and share your experiences. We want to hear what you have to say!
The social aspects of an Unconference (cultural tours in the city, group meals, bar sessions) are organized so that you will have plenty of time to network with other managers and bond with the other meeting attendees. Everyone is more comfortable sharing their ideas and asking for advice when they know and trust the other people around them, so join us for a pint and make some new friends in the industry.
Schedule
See the Events page for details about upcoming Unconferences.
Previous Unconferences:
Grunau, Austria – Nov 2009
Crete – June 2010
Cluj-Napoca – October 2010
Dublin – February 2011
Istanbul – March, 2011
Lisbon - November, 2011
Jerusalem - February, 2012
Dublin - February, 2013
St. Petersburg - May, 2013
Cancun - May, 2014
Madrid - February, 2015
Frankfurt - November 2015
Wroclaw - May 2017
Nazareth - Noember 2017
London - March 2018
Hosting an Unconference
We are currently working on a guide for hosting and Unconference. In the meantime, if you would like to host a Hostel Management Unconference, please send a message to receive more information. There is a tight schedule of Unconferences worldwide and interest in hosting is high, so please request your dates as far in advance as possible.