OTA Listing Verification and Alert Service
Your hostel has great reviews, a solid reputation, and has been set up with all the major OTAs for months, if not years. You receive bookings from them, so you are good to go right? Maybe not.
When is the last time you thoroughly checked your listing with each OTA that you are registered with? Have you actually gone through the entire booking process, from initial search to ready to book? 
If you are relying on OTAs (Online Booking Agents) to get new guests in your hostel, a "Set It and Forget It" approach can cost you money.  Many hostel owners and hotels have been caught off guard by trusting their hostel is still listed, only to find out months later that some technical snafu has occurred. They may find their hostel listing is active, but it's not actually in search results, thus rendering it ineffective, or perhaps no longer listed at all.
Failing Silently
When real-world systems and equipment in your hostel fail, you know about it because they are in your face (or your guest's face). You will see it, hear it, or someone will tell you about it. At Hostel Management we use the term "failing silently" to describe systems and equipment (usually online) that will not alert you when they are not working. Hostel owners need to be careful that the marketing efforts they have in place are continuing to work for them and not silently falling off the radar.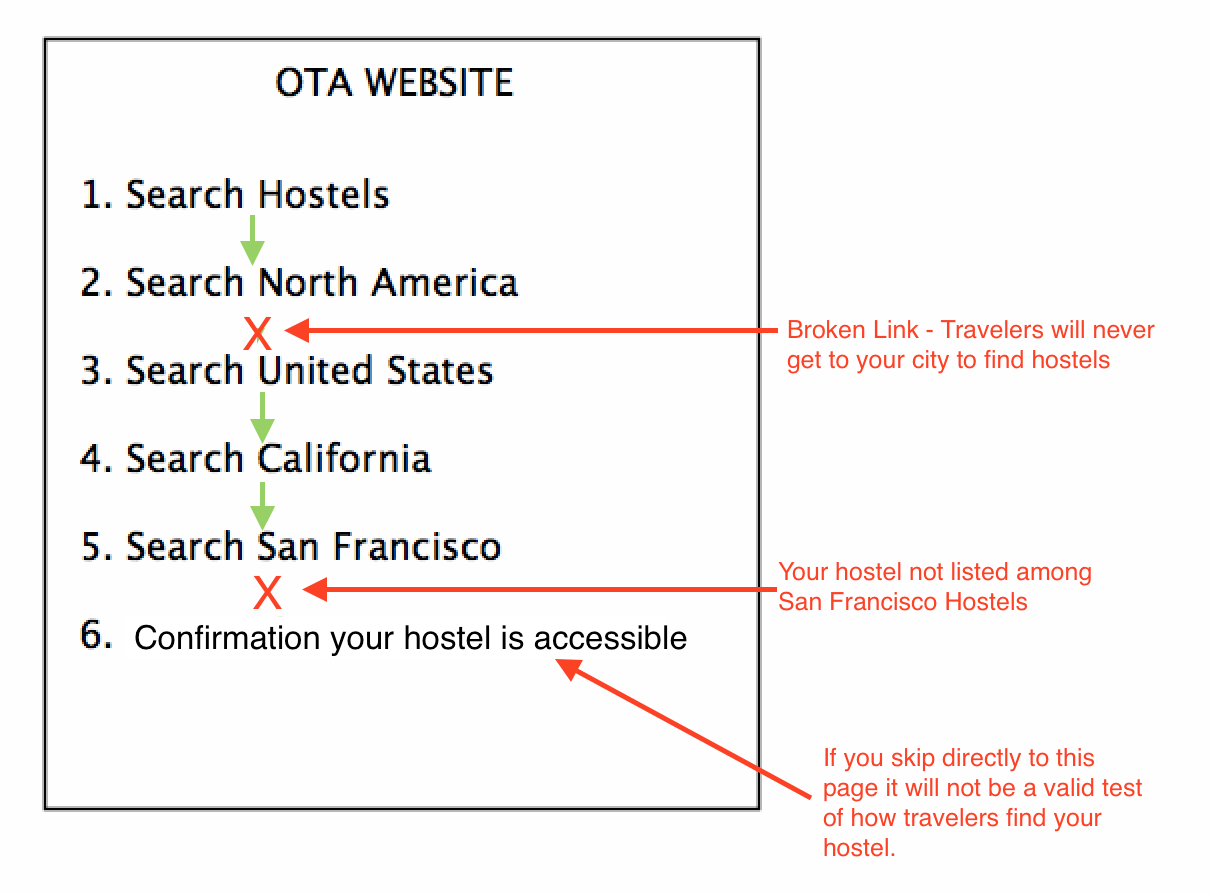 Would you know if your hostel listing ghosted?
You may have all of your OTA listings bookmarked and click on them regularly, thereby thinking that everything is good to go. Or perhaps you have searched for your hostel by name, found it, and logically thought there were no problems in guests finding you. However, these are not true tests of whether your hostel is visible and accessible by the OTA. Since there are a few places where a breakdown can happen in the process, you can't be sure by a quick click.
For instance, while your listing may be live, there could be some glitch where you don't show up in your entire city's listing of hostels. Unless you have someone manually searching the OTA in the same way a traveler planning to visit your city would, you will have no way of knowing this. Simply clicking directly to your bookmarked listing will give you a false positive, since most travelers are never finding it. 
Avoiding lost revenue efficiently & effectively
How much money is a hostel guest booking worth to you?  How much money would you lose in 6 months if your hostel was no longer getting bookings from various OTAs, or if they were drastically reduced?  What would you pay as an insurance policy against these loses?  
We understand that checking each listing thoroughly is a time-consuming process that most hostel owners and managers simply can't prioritize among the more pressing concerns. We also know the value of regular checks, which is why we have launched a new service to do this work for you.
Subscribe to the OTA Listing Alert Service
Give yourself some peace of mind and try out our new Hostel Management OTA Listing Alert Service.  Once subscribed to this service, your human virtual assistant will manually check the status of your hostel's visibility on all of your OTAs and update the results on a Google Doc.  Your assistant will also send you weekly emails regarding the status of your hostel's listings on the OTAs and point out any areas that need attention or have errors occurring.
A small cost for peace of mind
We are currently trialling this service at $20USD per month. To get started with our OTA Listing Alert Service or if you have any questions, please contact [email protected]