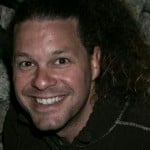 1) Some areas have specific ratios that you need to respect, others don't specify the numbers.  If your city requires separate men's and women's bathrooms they may also have a minimum ratio that you have to follow.  In general, one bathroom for seven or eight guests is sufficient.  Some places say one bathroom for 10 guests.  If it is at all possible, separating the toilets and showers into individual rooms is a good idea so that one guest can shower and another can use the toilet at the same time.
Regardless of how many bathrooms and showers you have, you can reduce a lot of traffic by making some extra sinks and mirrors available.  These could be in the rooms, in a hallway, or even in common areas.  These are convenient for washing hands, brushing teeth, shaving, putting on makeup, styling hair, etc. so that people don't necessarily need to take up space in the bathrooms.
2) Each hostel is going to be different depending on the location, when transportation arrives, etc. For example, if there are buses or trains that arrive at 11:00 at night, then you may always get a bump around that time.  In general though, there is likely to be a spike in activity around the check-out and check-in hours, especially if they are close together.  It's pretty common to get an extra-large crowd at that time because some people will stay late and others will arrive early.  In a really tight turnaround you could even have up to twice the occupancy of the hostel milling around at the same time.  It's quite likely that people will have questions, special requests, and bring up concerns at this time, so it's a good idea to have a manager around for backup or to resolve issues.  
There is usually another spike just before dinner time as everyone comes back from exploring the city and switches into evening mode.  This is a time with particularly heavy demand for bathrooms, but also for the reception.