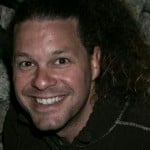 Are you talking about a sign for advertising purposes, or is this to help your guests find their way to your front door?
Is it legal for you to put up signs? A lot of hostels struggle with this, and some even receive fines for posting them illegally. The hostel that I'm working with now cannot put up a sign, even on our own building. We can, however, fly a flag over the front door with our name and logo. It's the only flag on the entire street, but it seems to be invisible to all our guests. No one ever sees it.
I have no idea if it was legal or not, but when I visited Bratislava a few years ago one of the hostels had put up signs starting in the train station and continuing all along the road leading to the hostel.
Hostel - 500m ahead, then left.
Hostel - 200m ahead, then left.
Hostel - turn left, then 100m.
I had no problem finding them.