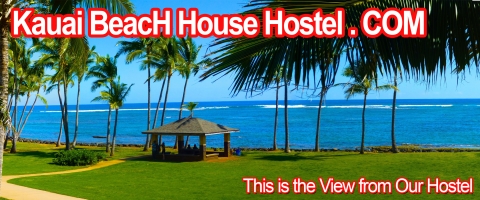 Aloha from the Kauai BeacH House Hostel; we are located on the beautiful tropical island of Kauai in the Hawaiian Islands of the USA. Our location is in Kapaa Town and our hostel sits at the edge of the Blue Lagoon and Pacific Ocean. We have 3 view decks and 2 private rooms and 3 dorm that overlook into the lagoon and ocean.
A 15 miles (25Km) Hike and Bike Path touches our property and run along the edge of the ocean; it is so beautiful.
You can walk to 20 restaurants, there are 60 in our town, we have Free Wifi and Free use of bedding. 3 big grocery stores and shopping centers are a few lights down the road and there are many shops along the way.
The island of Kauai has spectacular scenery, hiking, swimming, surfing, beaches, rivers, waterfalls, rainbows, activities of every kind and we are by far Hawaii's most beautiful island.
Kauai...the Garden Island. www.KauaiBeacHHouse.NET or for ease of typing and spelling you can also find us at www.5Beds.com
All of the picture are taken form our private rooms, dorms, or view decks. The little pavilion in the pictures is right in back of us and we use it for BBQ's and relaxing...like sunrise and a coffee.
Mahalo nui loa,
Jay 808-652-8162 or 63 or 64