£700,000 investment for New Forest Youth Hostel
YHA New Forest, the latest youth hostel to have the magic wand treatment by the leading youth charity, has been declared open by YHA Ambassador and British athlete and adventurer Sarah Outen MBE.
The 57-year-old hostel has had a £700,000 facelift which has resulted in new bedrooms, bathrooms and communal spaces throughout as well as the addition of three luxury camping pods in the grounds of YHA New Forest. The interior has been updated and given a fresh, contemporary look, while the bedroom layout has been reconfigured to create rooms better suited to modern families and school groups.
Thanks to more than £31,000 of funding from the New Forest National Park Authority (NFNPA), YHA New Forest, which is based in the village of Burley, now also boasts fantastic cycling facilities and inspiring displays. Together, these will encourage visitors to travel to both YHA New Forest and the New Forest National Park by sustainable means in order to ease congestion and support the National Park to become a more tranquil, enjoyable place to visit.
Even more young people and their families will be able to enjoy YHA New Forest following the investment. Thanks to a reconfiguration of bedrooms and the addition of the heated camping pods in the grounds, the youth hostel now boasts an additional 14 beds which can be used all year round. Individual accommodation starts at £15 and a four-bed family room starts from just £39 a night.
The much-loved hostel already attracts thousands of guests each year and is a popular location for schools from throughout the region taking part in residential learning experiences.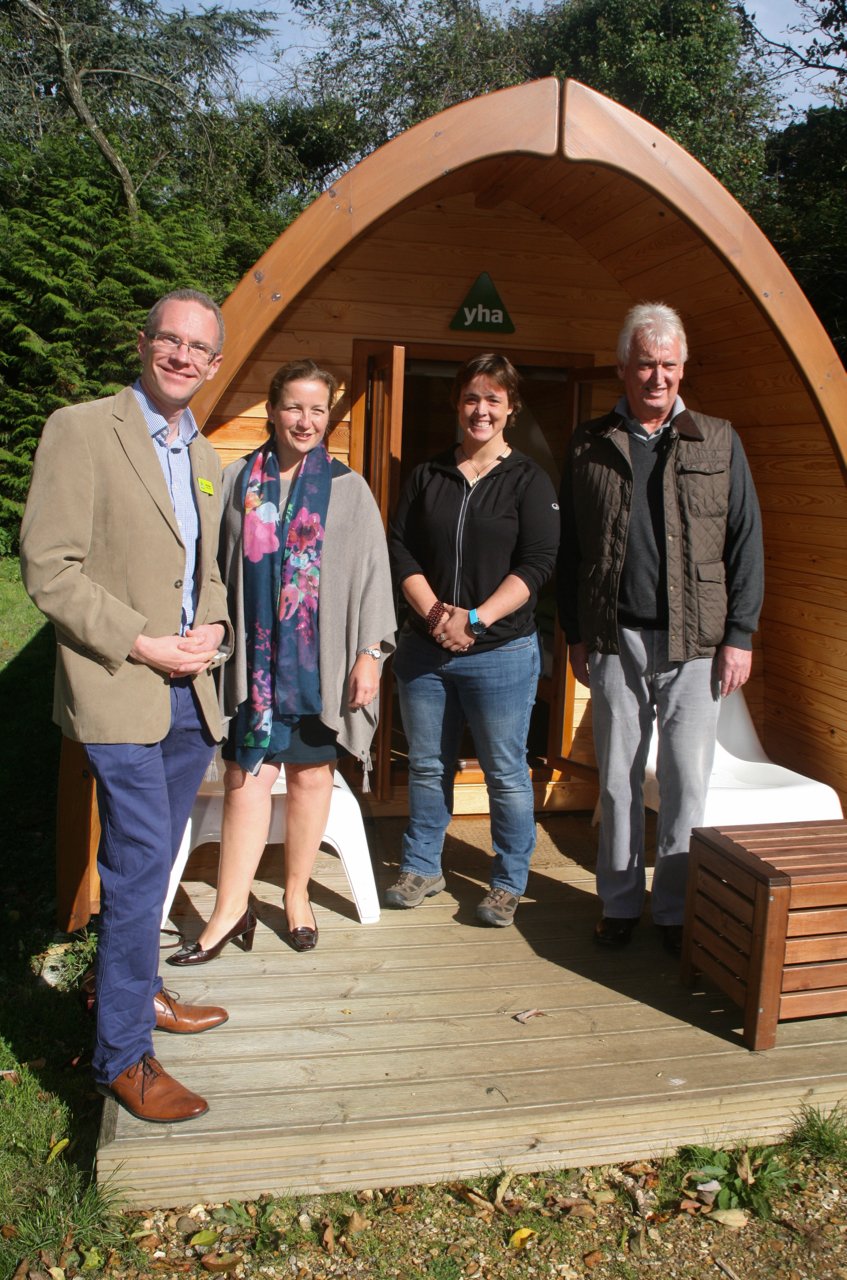 YHA New Forest marks the reopening following the £700,000 refurbishment. Left to right:
James Blake – CEO of YHA (England and Wales)
Alison Barnes - Chief Executive of New Forest National Park Authority
Sarah Outen MBE – YHA Ambassador
Neal Martin - Burley Parish Councillor
YHA New Forest's transformation is part of YHA (England and Wales) ongoing investment programme, which has seen more than £37 million invested in its network since 2011 – bringing brand new youth hostels to life and refurbishing others.
James Blake, Chief Executive of YHA (England and Wales) said: "The newly refurbished YHA New Forest exemplifies the modern YHA of today – offering world-class accommodation in rural, coastal and city locations right across England and Wales.
"As one of our smaller, rural properties, I am delighted that we have been able to make such a significant investment in YHA New Forest. This demonstrates our commitment, as a leading youth charity, to ensuring that young people and their families can access life enhancing experiences that we know a stay at a youth hostel can bring.
"In YHA we have a saying that where you stay changes who you become. We believe that encouraging young people to stay in the Park – as well as to visit – will help them re-connect with the natural and social landscapes of the Park. By investing in our hostels, we are investing in future generations, and look forward to connecting with more young people in the future.
It is with the generous support of the NFNPA that we have been able to develop such fantastic facilities at YHA New Forest that will help us all attract more young people and their families to visit this beautiful part of the world."
Speaking at the official opening event Alison Barnes, Chief Executive of New Forest National Park Authority said: "We are delighted that our Family Cycling Experiences fund has been able to support YHA in providing improved cycling facilities at YHA New Forest.
"This is the very first youth hostel I stayed in as a child on a school trip and I like to think that it played a role in building my love of the countryside. Our partnership with YHA helps to ensure that these experiences remain available to young people and their families.
"We hope our support for cycle storage and improved interpretation at this hostel will help guests understand and care for the National Park while travelling around more sustainably."
The partnership between YHA and the NFNPA will allow thousands more young people every year, some of whom will never have seen the countryside before, to visit, stay in and learn about this unique part of the countryside.
YHA New Forest is one of 160 youth hostels that YHA operates throughout England and Wales, operating at the heart of all of the communities in which that are situated in, providing a place to stay, social spaces for guests and local communities, employment opportunities and work with volunteers as well.
YHA New Forest is open to all guests throughout the year and bookings can be made atwww.yha.org.uk or by calling 0800 0191 700.
Main image: Guests make their mark on a special picture that will be hung in the reception of YHA New Forest to mark the reopening following the £700,000 refurbishment. Pictured left to right:
Peter Gaines – Chairman of YHA (England and Wales)
Alison Barnes - Chief Executive of New Forest National Park Authority
James Blake – CEO of YHA (England and Wales)
Sarah Outen MBE – YHA Ambassador