HostelManagement.com received work that YHA is opening a new flagship Youth Hostel in Northumberland National Park.  They have just started taking bookings ahead of its opening in late July this year.
YHA The Sill at Hadrian's Wall will provide accommodation for 86 guests across 26 bedrooms, 19 of which are en suite and two which are fully accessible. The Youth Hostel also features a restaurant and bar as well as a fully-equipped self-catering kitchen.
Offering exceptional value for money in the area, prices at YHA The Sill start from just £39 a night for a private family room and only £21 a night for a bed in a shared dorm.
The purpose-built Youth Hostel will provide much needed accommodation for the thousands of star gazers, historians and outdoor enthusiasts who visit Northumberland National Park each year.
Located close to the iconic Sycamore Gap and the Roman site at Vindolanda, the design of the Youth Hostel and National Landscape Discovery Centre has been inspired by The Great Whin Sill, a nearby geological feature. The building complements and reflects the landscape with dry stone walls, glass and timber. It also boasts a unique accessible Whin Sill grassland roof with a viewing platform.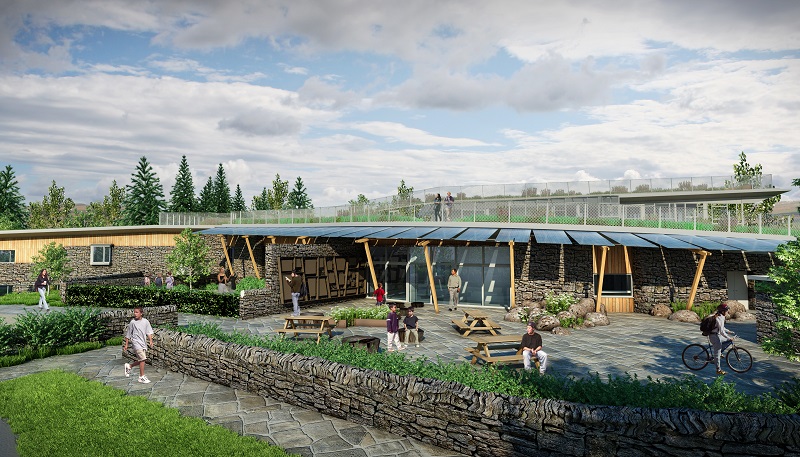 William Howarth, Acting Chief Executive of YHA (England and Wales) commented: "YHA The Sill at Hadrian's Wall is a world class Youth Hostel that we are delighted to add to our portfolio of unique properties throughout England and Wales. It will offer affordable, contemporary and comfortable accommodation on a scale that is currently not available in Northumberland. It is much-needed and much-anticipated and I am confident it will enable many more young people and their families to experience what this wonderful part of the world has to offer."
The Youth Hostel is part of the £14.8 million National Landscape Discovery Centre, which is a collaboration between YHA, Northumberland National Park Authority and the Heritage Lottery Fund. The Sill's main purpose is to open up Northumberland National Park and the surrounding areas of Outstanding Natural Beauty to more people, helping them learn about and explore some of Britain's finest landscapes.
Dr Sarah Glynn, The Sill Manager, said: "We've worked extremely hard to bring this iconic and inspirational project to life. The Sill is the single most significant initiative to be undertaken in rural Northumberland in a generation and will transform how people engage with landscape, nature and the great outdoors. We open to the public on 29 July and are looking forward to welcoming our first guests and helping more people to explore and enjoy Northumberland National Park and the surrounding area."
The Youth Hostel and National Landscape Discovery Centre is the largest project so far undertaken by any UK National Park and is within metres of the remains of the 1,900 year-old Hadrian's Wall, which was made a UNESCO World Heritage Site in 1987. In addition to Hadrian's Wall, Northumberland National Park is also an Iinternational Dark Sky Park and offers Europe's largest area of protected night sky.
To make a booking at YHA The Sill at Hadrian's Wall visit www.yha.org.uk or call 0800 0919 700.