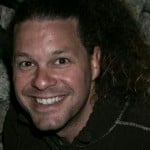 This sounds like a tough battle to fight.  Unfortunately, I doubt that Facebook will be much help.  The review reflects her honest opinion about her experience.  She did stay, she did change her dates, it was your decision whether to charge or not, and she wasn't happy about the situation.  Facebook is probably going to say it ticks all the boxes for a legitimate review.  I'm not sure how sympathetic they are with business pages.  That said, you should absolutely contact them and let them know that this guest blackmailed you a horrible review to force you to waive your cancellation fee.  (which you did)
In general, I don't charge a cancellation fee if the reservation is pushed back to different dates, especially if it stays the same number of bed nights.  Unless you were completely full and turned people away because there was no space, and then you couldn't sell those beds again.  That would be a different story.  The policy, however, is entirely up to you, and you should always do what you think is best for your business.
Please let us know what Facebook says.