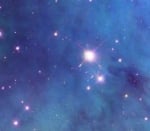 I've built websites for hostels using both systems. I think that WordPress is easier for clients to maintain, but if you know Drupal, then Drupal works too.
With WordPress, you can update with a mouse click. In Drupal, you typically go to the command line and use drush commands for that. I think that it's more time consuming. Drupal has more features in some areas.
I don't think it matters for a hostel website unless you're adding interactive features. Both are good a delivering web pages.