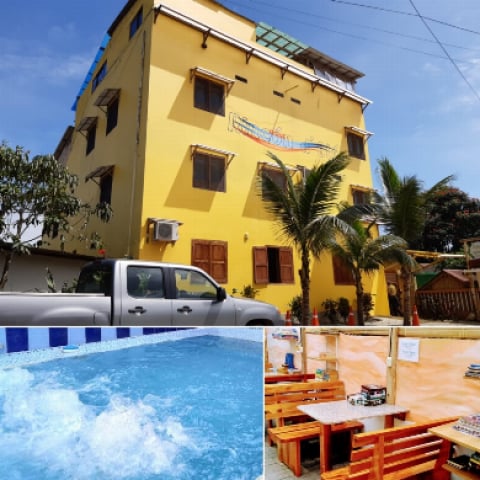 Hi, I'm Gijs (Chris) from Holland. I build this luxurious, european style Boutique hotel (Apart-Hotel Rincón d'Olón) 3 years ago,
Business has gone FANTASTIC!
We have by far the best reviews, return guests and amenities, facilities, beds, pool etc of any place in the region!
We grew from 60k (2016) to 80k (2017) to almost 100k (2018) of turnover with just about 34% costs including EVERYTHING with 3 staff.
1 pool shed
1 Laundry room (2x wash + 2x dry + Gas water heater)
1 managers room
11 Hotel Rooms of the Highest Quality for up to 42 guests
Pool with Bubbles (very fun!), small Gym, Loverly Rooftop Buffet Breakfast Restaurant, little bar in the garden, hammocks, lots of seating, BBQ, Board Game areas, Reception area and much more
My Apart-Hotel is made to offer anyone that visits the best experience.
We are in a safe, quiet part of town just 2 blocks from the beach (1 very side street with streetlights, shops, etc), just 1 blocks behind the police office and near the Park, stores, gourmet restaurants and lounge bars (but far enough away not to have any noise!)
If you know Ecuador, you know Olón is the place to go for Upper-Middle class (and for the rich, who all have immense villas here).
Olón is growing by a lot, and will continue to grow organically (no big government projects). Also becuase the surf town of Montanita is just 4km away, This is the place to be!
Our Guests are REALLY HAPPY! With over 200 excellent reviews just on booking.com with a 9.4/10 rating we are probably the highest rated small boutique hotel. This also means it's easy to keep raising the prices. We have raised the prices for 3 consecutive years, and raised our occupancy at the same time.
The mentioned income was from 9 rooms. We made 2 NEW big rooms last year and already see increase of 20%. So, you should be able to reach over 120k income for 2019/2020 with about 40k in costs (including staff, permits, taxes, etc)
Buying ANY property in Ecuador over 26.000 will get you an investors visa ($500 fee) for ever for you and yours!
Everything here is modern, except for our 100+ year old trees that provide the roofed garden and social areas with shades of green. With a very Modern Reservation System with a good amount of future reservations is also an added proof of our Income and Occupancy. It has ALL the customer data in it, and you can go back 3 years and check it all out before buying to be sure to buy a FUNCTIONING HOTEL with REAL PROFITS and not just and empty building.
Apart from the Modern reservation system ($35/month Myallocator and Loventis.net), we have 16 HD camaras. Both reservations and camaras can be checked on an APP on your phone ANYWHERE IN THE WORLD!
Our name is now FAMOUS in the Ecuadorian big cities! We do very little in promotion (no Road Signs at all), but have a very nice multi-languaged website rinconolon.com with lots of visitors, a facebook page with over 14000 REAL and LOCAL followers that actually respond to offers and many of them have visited the hotel. We put more or less $1 per day on Facebook Advertisements and have many customers contact us via messaging (Whatsapp). My phone number, the website and EVERYTHING ELSE is included in the sale.
YOU NO NOT NEED TO UPGRADE ANY OF THE ROOMS: ALL ROOMS ARE UPGRADED 2019 to an INTERNATIONAL STYLE with QUEEN BEDS and DOUBLE QUEEN BEDS in most rooms. ALL mattresses and furniture and appliances are the highest quality. WE BUILD AND PURCHASED EVERYTHING TO LAST! You will not see ANY need for maintenance in ANY part of the hotel :) :) :)
We are a Preferred Partner of Booking.com, so Guests will always see us on top of the 26+ Hostels in the Area! Facebook-page with huge amount of Real Fans, a suprising amount of return Guests and incredible word-of-mouth and Online Reviews! Every single guest that has visited us in the last year has recommended us to a huge amount of others. Featured on TV (SUN CHANNEL), Radio (local and international), many, many blogs and websites and at several Benefits and Auctions for Charity in Cuenca, Olón and abroad. Our very diverse Guests make sure the hotel is full every single day of the year, even in the low-season, mostly with the kindest travellers imaginable that stay for an average duration of over 4 nights.
The building is constructed 100% in European style with extremely high (3meter) ceilings, completely white tiled bathrooms up to the roof, 2 meters wide stairs, super wide hardwood doors, even for the bathrooms, accessible showers and in general a very modern interior, completely furnished kitchens in most rooms with all Band Name appliances, ovens, blenders, tv's, aircon's and so much more.
Hardwood furniture, beds, windows and more make it look rustic and modern at the same time as being practical, clean and easy-to-maintain.
Owner is available for training, guidance and more and completely guarantees all the workings, income, reservations and more! The single staff-member that takes care of all the cleaning and breakfasts and much more can either be taken on contract or not, completely up to the new Owner to decide!
Pricing: With Name, Goodwill, Clients, Websites, Reservation System, etc: $579.000,-
Please contact us for more details.
Property Details
Size:
5000sq ft
Years Established:
4 years (100% renovated 2019)
Property Type:
Real
FF&E:
$ 100,000
Inventory Value:
$ 5,000
Real Estate Value:
$ 500,000
Other Details
Business Location:
Centre of Olón, Ecuador. 2 blocks from beach. 1 blocks from Restaurants, Park, Police, ATM, Bus Station, Taxi Station and much more. Quiet location, safe, street lighting, public parking (with our camaras)
Premise Details:
Our modern building is made as a hotel. No renovations needed, everything has been upped to an international four star hotel level this year (2019). The sheltered and partially roofed courtyard has ALL the modern facilities (pool, gym, bbq, boardgames areas, little cocktail bar, etc, etc, etc) and 100+ year old trees and roofs, etc
Competition:
we outrank out competition in EVERYTHING: reviews, bed quality, building quality, location, amenities, services, cleaning, etc, etc RIncon d Olon on booking.c to see 210 reviews with a 9.4 average rating. the BEST boutique hotel of the country
Expansion Potential:
We added 2 rooms this year within the construction itself. So income should grow with another 20% for this coming year. There is a posibility to construct on the rooftop, everything is build european style. You can also make the current roofs of the garden into cement and put rooms there (carefully avoiding our old growth trees, there can easily be another 4 rooms there) The restaurant is currently only breakfast, included buffet,. Can easily expand to full board, evertyhing is there already the cocktail bar in the garden is just being finished right now, no income from that has been counted yet, but will add a nice little revenue stream!
Living Accommodation?
Yes
one nice room for the manager/receptionist is included. If owners want to live on site, they can transform the bigger ground or top floor into an appartment.
Planning Consent:
nobody checks or cares here, no permits needed in general. Both COMUNAL and MUNICIPAL paperwork included!!!
Website:
rinconolon.com
Document:
sale hotel.pdfINCOME REPORT 2017 RINCON d OLON.xls
Operation Details
Employees:
3 staff (1 with contract, rest flex) making $300 a month each
Trading Hours:
7am to 10pm since we have GOOD business, it's NOT needed to open the doors at night. ONLY CONFIRMED RESERVATIONS. (We actually disconnect the streetside bell at night)
Support & Training:
Current owner and manager/builder is available for as long as it takes for you to make yourself familiar with all workings
Miscellaneous
Financing Available:
Yes
50% can be paid over 5 years without any interest. This also 100% guarantees that everything is perfect. There is just one way to do a hotel business: Having Everything 100% Perfect!
Reason For Selling:
We bought 2 villas on the beach and are renting them out. We opened a restaurant too (same street as the hotel that is for sale). Now want to sell the hotel and pay off our mortgages and focus on the beach villa and restaurant. Olon is growing, we are making it grow even more! We will be in town for ANYTHING you need. 100% guaranteed construction, income, clients, facilities, etc Comes with all client history,
Kind regards & Saludos cordiales,
Gijs (Chris) Koopmann & Shirley Ponce
Apart-Hotel Rincón d'Olón
Olón (Montañita), Santa Elena, Ecuador
(+593) 0 991 224 223
www.rinconolon.ec
[email protected]
www.facebook.com/rinconolon