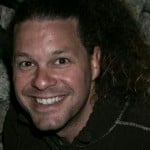 From their website:
Mingle with Moxy
Work, play. On, off. Overdrive, socialize. The hip vibe to our bright, open lobbies invites you to connect and liberate with:

Stylishly designed chic spaces to greet, meet and retreat
Space to meet and collaborate featuring large writing walls and 56-inch TVs for presentation projections
Complimentary computers and free Wi-Fi
Vibrant, energetic bar scene where the conversation flows as easily as the local brews and vintage wine
Social spaces to meet people. Common computers and free wi-fi. Encouraging people to mingle in the bar. Sounds like they've recognized some of what makes hostels great and the amenities that we use to facilitate those things. They're on the right track. And they have the funding of a major hotel chain. Yes, I think it's fair to say that independent hostels, especially the smaller ones, have reason to be concerned.
(also, I remember there being something a while ago about Ikea opening budget hotels... but I cant find the thread)
This one is about Ikea opening a hostel inside the store, and this one is about Ikea teaming up with an international hotel company to create a chain of "design hotels." Mission accomplished.