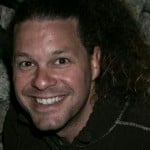 Hi Matt,
Welcome to the site, and congratulations on your recent opening!
You have an interesting design in your dorms with the beds suspended in the air. It's a good way to recover some space overhead and make it useable while keeping your floorspace open. How tall are your ceilings? Have you ever received complaints about noise from the people sleeping above the lockers?
Your 12-seat table is fantastic! I wish I had one like that in my hostel.
Good luck, and much success!