Online Employee Rostering System
Replace complicated spreadsheets, online-documents and time consuming, pencil-and-paper rosters, with Hostelworks, a very effective tool that will let you reclaim your workday, managing all the ins-and-outs of HR with ease and simplicity.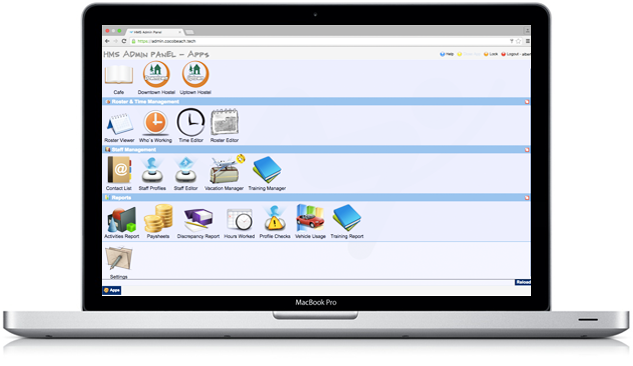 Features:
Online Roster Builder
Time-Clock (clock-in/out)
Vacation Manager
Online Training System
Vehicle Tracker
Hour/Pay Reports
Online Daybook
Secure and Scalable
Reduce time spent on HR planning by up to 80% and reduce wage costs by up to 8%.
Online Roster is an entirely customizable roster to enables you to build next-week's roster quickly and efficiently, without making mistakes. Employees can visualize it online from anywhere and anytime.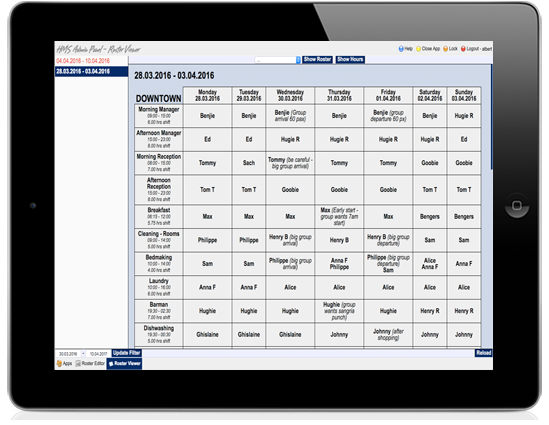 Timeclock allows employees to clock-in and out for their shifts allowing you to track each employee's work hours and only pay for actual hours worked. Can be locked down to the property to ensure staff are onsite when clockin in.
Who's Working Live Viewer is a feature which allows you to see who is onsite, what shift they are doing and when they started.
Vacations Management tool lets you view, track and manage vacation requests with ease.
Staff Profiles includes work history, contact details, contracts, allergies, birth-dates etc., timesheets, payroll, appraisals all in one place. Track employee performance through the Manager Comments and Employee Review system.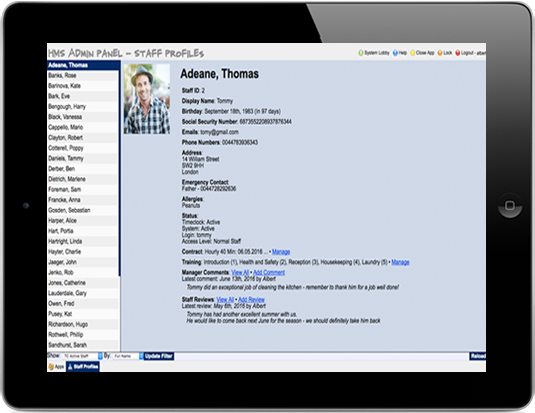 Training and Appraisal Suite allows you to upload and organize your business procedures, philosophy, health and safety regulations, shift information etc. and track individual employee progress.
Vehicle Management tool lets you to keep track of company vehicles. You are able to link vehicles to specific shifts, to track which vehicles are used and when, by whom and for what job assignment.
Online Daybook allows your staff to easily communicate across properties and departments. All notes can be logged viewed, organised and printed.
Full Reporting System allows you to track and control employee costs with a variety of useful reports which can be exported to Excel.
Pay System generates pay sheets based on actual hours worked. Hourly and monthly pay-rate functionality as well as pay-rates exceptions for specific shifts, for example night-shifts. International functionality allows you to set different currencies for different countries.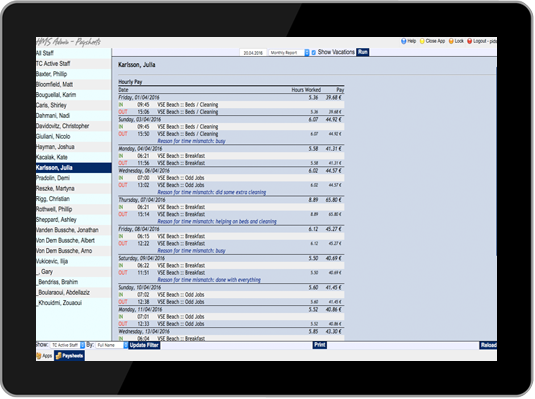 Customized and secure access / login allows you to have full control of the access settings. Each access level is customized allowing complete flexibility of access from upper-management to front-of-house employees.
Hostelworks is designed for businesses of all sizes. Online and accessible from anywhere: manage and share employees across all locations and departments from anywhere in the world. Monitor employee performance in your businesses across countries and continents.
For more, visit our website www.HostelWorks.com and contact us [email protected].