 Wow that post confused me! I think you're overcomplicating things.
I'm pretty sure there's a post about this somewhere on the forums already, but basically the way the system works is this (apologies for crude image, just threw it together).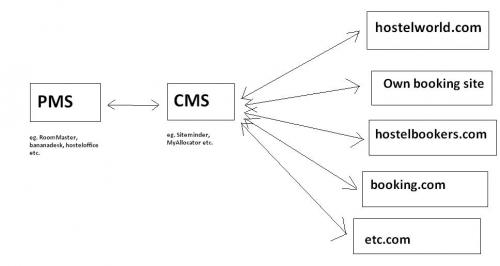 Your PMS sends your availability to your CMS. Some PMS also send rate information, otherwise you set this up in your CMS.
CMS distributes this availability to all OTAs so they have live availability.
When an OTA takes a booking it gets sent to the CMS and then passed on to the PMS.
PMS adjusts availability, passes the information onto CMS which again passes the information to the OTAs.
This is how we get live availability.
Your question about commission confuses me. Whichever OTA makes the booking takes the commission. Some take this from the guest straight away as a "deposit", leaving you to bill the remainder to the guest (hostelworld, hostelbookers are prime examples). Others don't take any payment from the guest and leave the property to collect the full amount, and they then invoice the property for their commission (booking.com is prime example).
So in answer to your questions:
1 - As far as I know, if the OTA takes full or part payment straight away but CC can't be charged, the booking never gets pushed through the system. It all depends on how the OTA works though. Booking.com doesn't even check card data before pushing reservations through as they don't charge anything to the guest.
In answer to your second question, whichever OTA makes the booking takes the commission.
CMS like Siteminder and MyAllocator are just the middle-men, making your lives easier by automating the process. I don't know about MyAllocator, but Siteminder doesn't take commission but charges a yearly fee.
Some OTAs have their own little network, but essentially it all comes through the one OTA.
Hope that helps clarify a little...