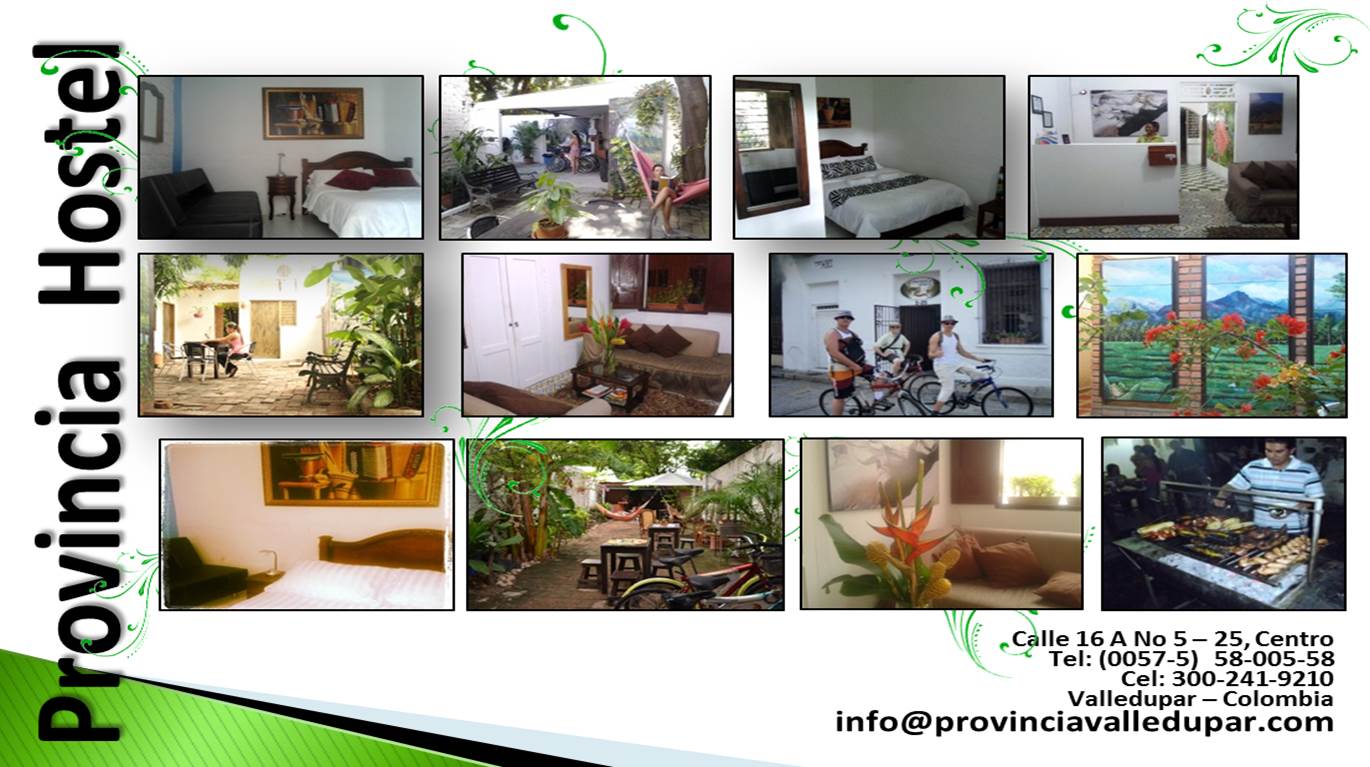 Top rated hostel for Sale in Valledupar Colombia
Contact / whatsapp: 3147920798
[email protected]
We will be selling a top rated hostel in Valledupar, Colombia.
Selling hostel business (Not the building)
Provincia Hostel, which opened its doors in 2009, is a lovely & homely backpacker hostel in the beautiful city of Valledupar, in Northeastern Colombia. (3 hours from Santa Marta)
The hostel has become a popular stop-over for backpackers, not only for its friendly welcome & great facilities but also as a base for exploring largely Northern Colombia. The beautiful surroundings will convince you soon enough to start your discoveries.
A beautiful region! Known as the "forest city", Valledupar is considered the greenest city in Colombia. As the birthplace of Vallenato music, the city is representative of a unique part of the Colombian culture.
Provincia Hostel has six comfortable and nicely decorated private rooms with bathroom, (from 2-3 people) TV, air conditioning and fan. Three shared rooms of (9+8+2) = 19 dorm beds available with air conditioning or fan. All come with comfortable mattresses, pillows, towels and all the linens. Renovated in 2014
The building is rented and we have just signed (starting from the 20th of May 2014) a new contract of three years. The renters are a rich Colombian family that I don´t expect you to have problems with if you want to renew the contract. The rent is low in Colombian standards, and that helps to get a good profit from it.
We are listed in: Lonely Planet South America, in Lonely Planet Colombia, National Geographic Traveler, Footprint Handbooks Guide Colombia & South America, Rough Guide South America, in Petit Futé South America, Explore Travel guide, Colombia Facil, and we are member of Colombian Hostels since 2009.
Booking.com, venere, expedia, hostelworld.com, hostelbookers.com, hosteltail.com, hostelz.com, gomio, hostelsclub
For pictures and more info about hostel visit:
www.provinciavalledupar.com
Awards Team Tripadvisor: Certificate of Excellence 2015, Tripadvisor
Awards Team Tripadvisor: Certificate of Excellence 2014, Tripadvisor
Awards Team Venere.com: Top Clean 2013
Chamber of Commerce Valledupar, Award of tourist merit winners 2013
For reviews and to know what people thinks about us:
http://www.tripadvisor.co/Hotel_Review-g1009235-d1657224-Reviews-Provinc...
If you are interesting please write to:
[email protected]
Contact / whatsapp: 3147920798