The only thing worse than finding out a guest is unhappy with their stay is finding out after the fact. Online. For the world to see. When you can now do nothing about it. Or can you? I've heard a lot of debate over whether hostels should respond to online reviews. Does it make a difference?
My thought was always that it can't hurt. This was affirmed after hearing an extremely informative and entertaining presentation about responding to reviews at the Hostelworld Conference this past year in Dublin. The presentation was given by Lena Edlund, "Manager of Fun and Communication" at City Backpackers in Stockholm. For those of you who didn't get to hear it, I am going to recap a bit of what she spoke about.
First she defined the six general types of guests that leave reviews: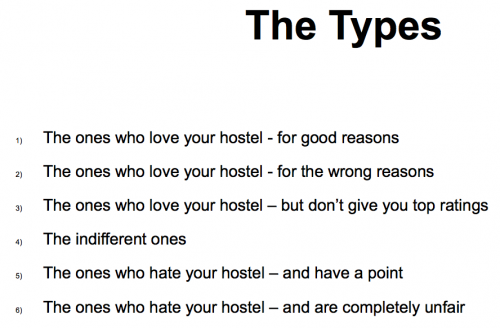 For the purposes of this post, I will be focussing on the final two: those who hate your hostel but have a point and those who hate your hostel but are being unfair.
Let's start with those who are unhappy but they had a good reason to be. Good may be a stretch in some cases, but at least they had some type of legitimate provoking.
Example #1 from Lena: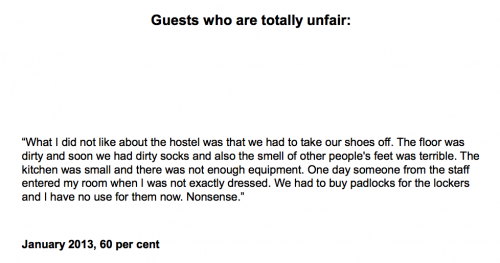 As Lena got into her presentation, she had the whole room rolling in laughter by showing us first how she'd like to respond: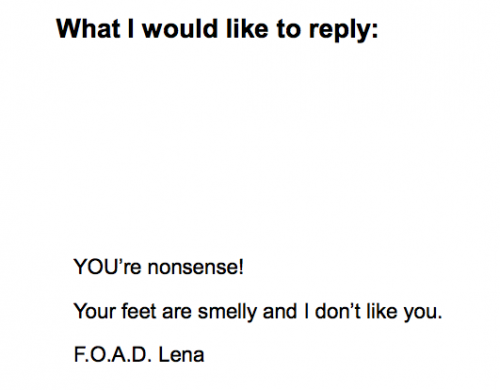 As she read this slide aloud, I discovered F.O.A.D. stands for Fuck Off And Die. And then I nearly wet myself laughing. Is it nice? No. Have I thought this before in relation to my job? Most definitely. Hence Lena's chosen title "What I would like to reply". We've all been there. "You're upset we don't have a light up make-up mirror in the bathroom? So sorry we aren't the Hilton. (True complaint I received once, in person.)
Luckily Lena's actual replies are as helpful to learn from as her desired replies are funny. Here is a copy of her real reply to this guest: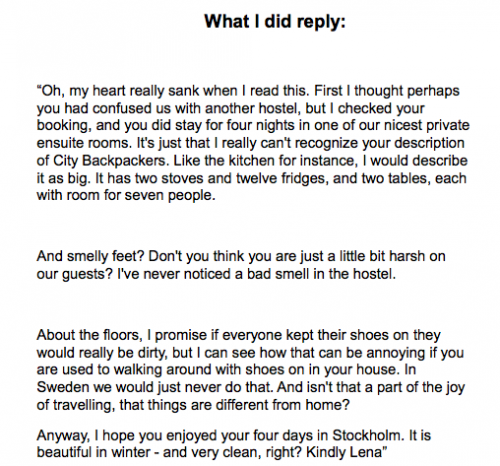 This reply did a few things:
1) devalued a non-legitimate complaint by showing why it was wrong
-pointing out 2 two stoves, 12 fridges etc shows the kitchen isn't small at all
2) devalued a legitimate complaint by showing it was actually a complaint about guests rather than the hostel itself
-'little bit harsh on our guests'
3) devalued an annoyed complaint by reminding the guest that just because something is different from home does not make it wrong
-"In Sweden we would just never do that. And isn't that a part of the joy of traveling, that things are different from home?"
I also like how she explained that they have their shoes off policy for a good reason, but also acknowledged the guest's inconvenience as well as understanding of why they may feel that. That acknowledgement goes right along with my Part 2 post.
The next example is of an angry guest who had a legitimate reason to be upset: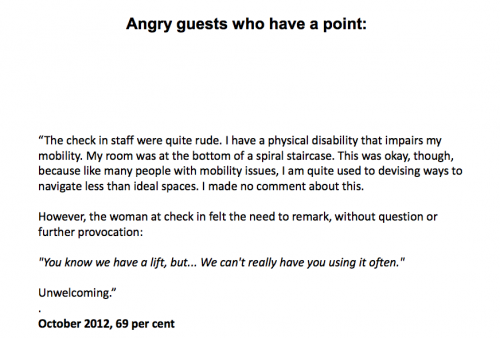 Here is how Lena replied: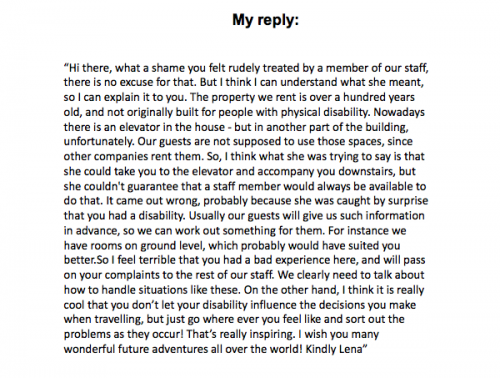 There are a few clever point in this reply. For instance:

In this sentence, Lena is acknowledging the guest's complaint without agreeing that the situation actually occurred how the guest described it. Saying "I'm sorry you felt rudely treated" is very different than "I'm sorry you were rudely treated".
She also pointed out that the problem was partly preventable on the guest's part:

This shows to other potential guests that the hostel is happy to accommodate special circumstances if they know about them. It's also a nicer way of saying 'It's your own fault you didn't tell us'.
In the end Lena wraps up with kind words to the guest:

Not only is this ending on a positive note, but in Lena's opinion it's also slyly encouraging the guest to go elsewhere.
The next example is of another guest who had a mixed review, but did have some grounds for his negative experience: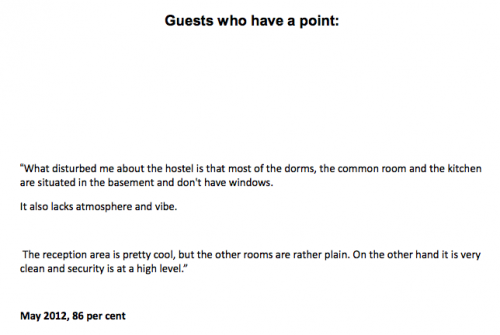 First, here is Lena's reply: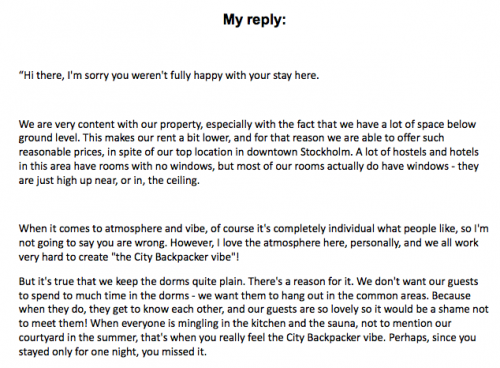 This reply was not only a bit of damage control to the guest, but also served as a positive marketing tool potential guests.
First, she turned the guest's complaint about underground space into a positive trait by explaining how it helps keep reasonable prices in a prime location:

Cost and location are most certainly two things potential guests will be looking at.
Next, she acknowledges his complaint about atmosphere and how it is to individual liking, but adds a positive note:

She then goes on further to explain they don't want guests staying in the dorms because when they mingle the atmosphere comes alive:

This points out that had he spent more time with the other guests, perhaps he wouldn't have had a complaint about the atmosphere and vibe.
Lastly, she makes it a point to say he only stayed one night:

Lena explained that if you have a negative review and the guest stayed a short time (only a night or two), it's good to point out the length of stay in your reply because it discounts that review more. i.e. Had that guest stayed longer, perhaps their opinion would have been different.
For instance, a complaint about a lack of atmosphere while staying for one rogue dull night may not have happened had that guest stayed for a few nights when more may have been happening.
On the other hand, if the guest gives a negative review and DID stay several nights, better not to mention that as it gives weight to their complaint.
I'll touch quickly on Lena's 2nd type of guest as well: the one who loves your hostel but for the wrong reasons. While this is not a negative review from the guest's perspective, it could be seen as negative by other potential guests. Responding gives a chance to set the record straight.
Lena's example: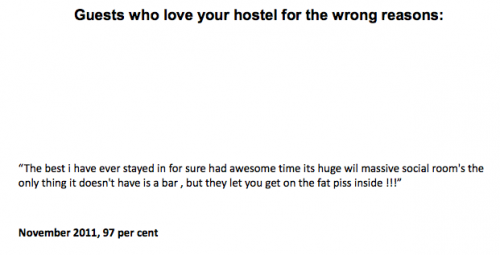 Hmmm. Perhaps you don't want to be known like this. Lena's reply:
It doesn't directly say what did or did not happen, but it is fairly straight forward that the hostel does not want to condone this type of behavior.
Like many things, it takes time to respond to reviews. It may make no difference at all to the potential guests reading the reviews, but it certainly can't hurt. Personally, I also think that not only does it show the hostel gives a damn, but gives the hostel a chance to set the record straight.
This is especially useful if the guest complained about something that you didn't know about ("The toilet on the 3rd floor doesn't flush properly") as well as alerting future guests that not only are you now aware of the problem, but you have fixed it ("Sorry to hear you had a problem with the toilet. We brought in our plumber and it works good as new now. Thanks for letting us know!")
Reviews, both good and bad, are often emotional reactions to that guest's experience. With that in mind, they are not always deserved and should be taken with a grain of salt by both potential guests and the hostel. However, responding to the negative ones can at least allow the hostel to put a positive spin on a not so favorable situation.
**A big thank you to Lena Edlund, "Manager of Fun and Communication" at City Backpackers in Stockholm, for proving me with a copy of her power point presentation. If anyone else would like a copy of the entire thing, send me an email. I'd be happy to forward it to you.**
Do you respond to reviews? If so, do you respond to only the negative ones or others as well? Do you think it makes a difference? Sign in and comment below.
**I know many of you comment on these blogs on the site's FB page, which is great, but it would be even better to have the comments directly on here for everyone to read. Thanks for your input and helping to further our knowledge!**
Keep following along:
<< My last post: Complaints, Part 2: Keeping the Peace
>> My next post: Tips & Tricks, Part 1: Reservations & Check In
Just joining the show and don't know who I am? Check out my introductory blog post.
As always, send any suggestions, questions, or thoughts on the blog my way by emailing me here.
Peace & love,
Courtney
P.S. Don't miss out! Follow HostelManagement on Twitter if you would like to receive updates when new my blog posts are made.