If you've read my introductory blog post, you know that I've had a knack for self employment since I was a wee one. I've always wanted to own my own business. As a kid, that first came about after selling boxes and boxes of Girl Scout cookies, only to discover I didn't get to keep any of the money. (I'm sorry, what?? I'm 7 years old, went door to door all day touting your sugar filled treats, even asking the neighborhood weirdo in my quest for sales glory, and all I get is a badge? Ha, good luck getting my slave labor again!)
No surprise I 'went into business for myself' the year after, selling wrapping paper and gift cards instead and keeping the profits. Back then it was just about earning enough money to buy my own $80 American Girl Doll, since apparently even Santa had limits. Now as an adult, I have an understanding of the intense work it takes to both open and operate your own business. As a hopeful future hostel owner, I also have a large amount of respect for those who do so.
One of my early blog posts was about finding affordable activities for your guests, and featured a walking tour of Sydney by Peek Tours. My guide's name was Gregg, he was great, and I enjoyed myself. I only found out after that his full name is Gregg Peek. I had assumed he was a guide working for a large chain company, such as Sandmans in Europe (also great tours, in my experience). Turns out he has actually worked for Sandmans, in London, but on return to his native Australia decided to do things for himself this time around. I enjoyed his tour already, but was extra pleased to know I was supporting a local and independent business.
When looking for activities for our guests, I think it'd be great if we as hostel operators took the time to search out some of the smaller businesses in our areas and worked to support them. When I stayed at Old MacDonalds Farm & Backpackers in Marahau, NZ, I was pleased to see that in addition to the 'family farm' style complex, they advertised independent kayaking guides, local horse trekking, and local arts & crafts in addition to the big activities on the rack cards. Many of you as small owner/operator hostels must know firsthand how it can feel to be the small fish in a big pond. There is nothing wrong with major chains or big businesses; I have promoted many of them to guests as they can deliver a great product or service. But by remembering that they are not the only players out there, we can seek to have a couple local, small or independent business alternatives to common chain activities.
Encourage your staff to really reach out into your city and community to find these alternative options for your guests. Since they often get the same questions over and over, especially for activity and food recommendations, it's easy for them to repeat the usual top 5 and be done with it. This can be especially true if those choices are well marketed towards tourists, as they are likely the same things your staff first tried upon arriving in your area. Unique and local options are always appreciated by guests, none more than our 'holier than thou', off the beaten track, I'm-above-all-things-touristy backpackers (my personal favorite, especially when they roll up with a Lonely Planet in hand).
I found a great example of reaching out to local businesses while staying at The Prince Albert Backpackers & Bar in Nelson, NZ. Upon check in, every guest received a bracelet with the hostel name and logo on it. They then explain that with this bracelet, you are entitled not only to discounts on food and drinks at the hostel bar, but a myriad of discounts around town. Everything from 10% off at a local pharmacy or car mechanic to deals with local breweries for free tours or cheap tastings.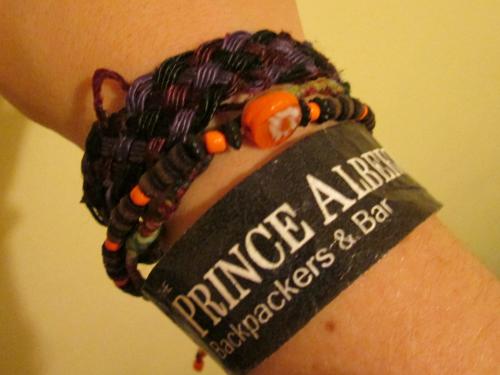 My discount bracelet for The Prince Albert Backpackers & Bar. It's one of the waxy paper types that can only be ripped off once.
The owner, Nani, told me they started doing the bracelets as a way to give 'extras' to their guests and to support local businesses, but also as a way to get their name out there. They just took over the hostel and bar 9 months ago, and are working hard to revitalize the place. Not every business on the list was necessarily small or independent, but it is still a great way to keep tourist dollars in Nelson. If a backpacker is going to need a mechanic at some point for tuning up the junker he bought for a road trip, perhaps he'd consider getting it done in Nelson instead of another city because he knows he'll get a discount. I know I purposely went to the specific pharmacy on the list instead of the one opposite it because of the bracelet.
I was curious how receptive businesses were to the Prince Albert's bracelet idea, as well as to Gregg's tour company when he started out. Nani told me it took a lot of work to get a solid list of businesses who would give discounts. She estimated that perhaps only 20% of the businesses she contacted eventually went for it. One actually told her he had enough business already, since he was on a main road. Apparently there can be a thing as too much business! The ones that did sign on, however, have been great to work with.
Gregg told me that hostels were overall very receptive to his idea and some helped him out especially. However, not everyone was game. He said one large hostel in particular told him they didn't like the concept and to come back in 6 months if he was still around. They still aren't interested, but it seems the support from the other hostels has kept him going strong for 3.5 years now. He said as a hostel-focused business, they see value in what he's doing and appreciate the free maps the company prints as well. Funny enough, I remember looking at that map when I first arrived and thinking 'Hey, this is one of the best tourist/backpacker maps I've seen for a city'. I didn't realize then that it was actually from Peek Tours.
Though the details are still very fuzzy at this stage, I know that in the next few years I will open my own hostel. I am lucky to have already received so much help, advice, and learning from others, not just about opening a hostel, but owning a business in general. I hope I can give some of that support back as well. One way I'd like to do this is to seek out and promote small and independent businesses in my area. Even the big businesses had to start somewhere. Hostels are all about building community, what better way to promote the spirit of hosteling than to support those around us? ...I'd say except maybe the strip clubs, but that would be lying. I did, in fact, take out guests to a strip club one night. BUT it was for a charity Christmas event, so that counts as community building, right? :)
UPDATE: Not long after writing this post, I had the opportunity to do another independent tour in New Zealand. This time it was a bike tour in Rotorua with Happy Ewe Tours. The company has just recently been started by a Rotorua native named Roger. After spending quite a lot of time overseas, he returned home and decided to start the company. He talked a lot about having a new appreciation for what his home town and country have to offer after being away, and enthusiastically shares this passion with his clients. I found this to be another great reason to support local, independent businesses. Many of them are run by travelers themselves who have returned. Not only can they identify well with your hostel guests, but they often have that bit of extra enthusiasm to share about their homes. I wish Roger the best of luck with his business, and highly recommend it if any of you head to New Zealand! And yes, that is my honest suggestion, I did not do either of these tours for free :)
Does your hostel work with local businesses in some capacity? Have any of you had certain good or bad experiences with this type of relationship? What do you think about doing a discount bracelet or card for your guests? Sign in and comment below!
**I know many of you comment on these blogs on the site's FB page, which is great, but it would be even better to have the comments directly on here for everyone to read. Thanks for your input and helping to further our knowledge!**
Keep following along:
<< My previous post: Connecting Travelers (USB Sold Separately)
>> My next post: Freebies & Discounts: Music to a Backpacker's Broke Ears
Just joining the show and don't know who I am? Check out my introductory blog post.
As always, send any suggestions, questions, or thoughts on the blog my way by emailing me here.
Peace & love,
Courtney
P.S. Don't miss out! Follow HostelManagement on Twitter if you would like to receive updates when new my blog posts are made.