This post is filled with ideas and great tips I saw from various hostels throughout New Zealand and Australia. I tried to put pictures with them whenever possible, as well as give credit to any hostel-specific ideas. Some ideas will not be relevant unless just starting out, or majorly renovating, but a little creativity can go a long way. Enjoy!
Tips & Tricks, Part 2: The Kitchen.
To aid your guests in actually drying and subsequently putting away their dishes, consider removing your dish rack. Almost to a fault, every hostel I was in that did not have a dish rack did have their clean dishes put away by guests.
Several hostels also had the opinion that the cleaner you keep your kitchen, the cleaner guests will keep it. I found this to be true, especially at Hekerua Lodge in Waiheke Island.
Have plenty of tea towels, and buy ones that actually absorb water! You may save a few bucks buying the cheap ones, but you get what you pay for. If you want guests to actually dry their dishes properly to put them away, don't skimp.
Additionally, have a bin or cabinet labeled for extra clean towels, as well as one for dirty ones. I often saw people look around for an extra towel, not find one, and only half clean up a mess with a towel already soaking wet. We know backpackers can be extremely lazy- clean towels requiring a trip to reception may as well be a journey to Mars. Not gonna happen.
One unique way I saw a 'sign' for encouraging guests to hang up tea towels was at Habitat HQ in St. Kilda. It was an A4 sized picture of the towels hanging up properly along the wall above the sink instead of words asking guests to do so. I found it to be more effective in a 'monkey see, monkey do' type way.
Put your liquid soap in spray bottles. It's easy to apply, and guests generally use less. I saw this at many hostels.
Instant boiling water taps give convenience to guests while easing the congestion of people in the kitchen waiting on water to boil. I saw this at many hostels as well, including at Paradiso in Nelson, who also had the soap in spray bottles: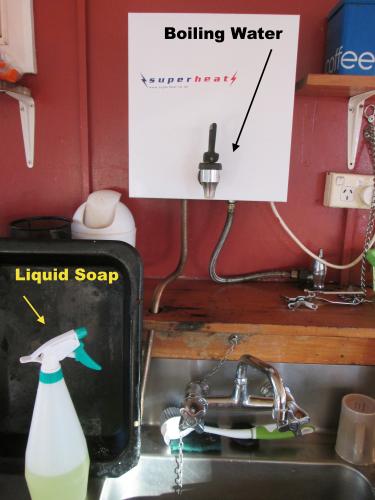 Rather than have all similar kitchen equipment stored together (i.e. all pots in one cabinet, all cutting boards in another) Adventure Queenstown has multiple 'stations' set up twice daily. These are equipped with a few pots and pans, one cutting board, one colander, etc. so guests can cook in one place without moving all over the kitchen. Having everything needed in one place really helps with traffic flow. The staff reorganize these stations each afternoon and night.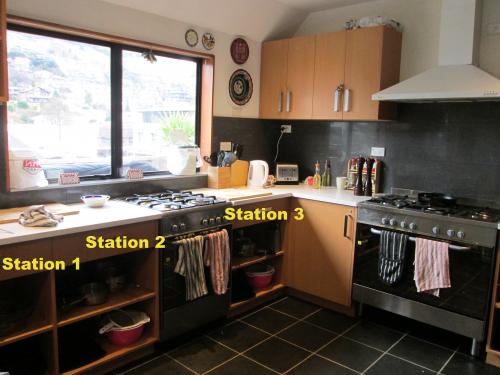 Lakefront Backpackers in Tekapo did a similar concept with their dish stations, to aid guests in properly washing up. They wanted to make sure each sink had a strong scrubbing brush to help ensure pots got thoroughly cleaned.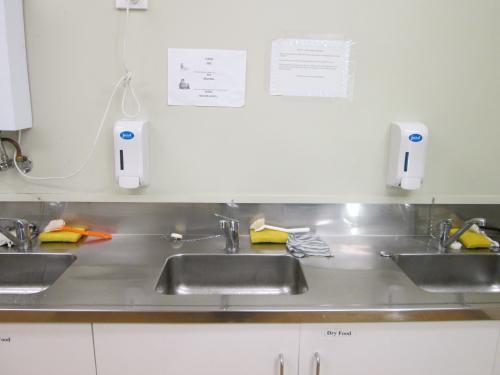 Sinks with 1 tap to control the water temperature are easier to use and may use less water than two taps (one having hot water and one having cold).
Having cabinet doors can make a kitchen look very tidy at first glance, but many hostels I spoke to deliberately kept open cabinets. They found the doors were simply covering up a mess. Without doors, guests are less likely to hide dirty dishes and staff can spot left behind food and other items easier. One hostel doing this was Downtown Backpackers in Wellington:
The same tip was given to me about having pots and pans hanging up. It looks nice, but in reality it keeps people properly washing their dishes. Old Countryhouse in Christchurch said they stopped having pots left half burnt with rice still stuck on and shoved away once they switched to this system: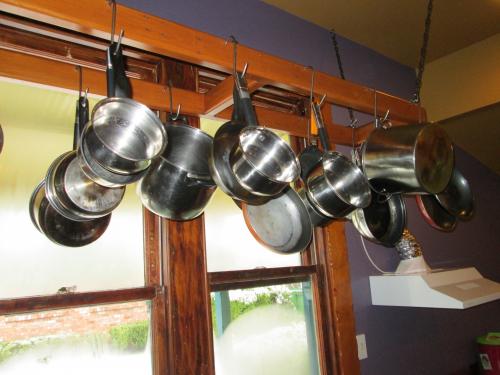 A few hostels had stainless steal counter tops. I was told they are expensive at the beginning, but you'll never have to do anything to them again. I find they can look a bit industrial, but proper accents can warm them up, such as the woodwork seen below also from Old Countryhouse: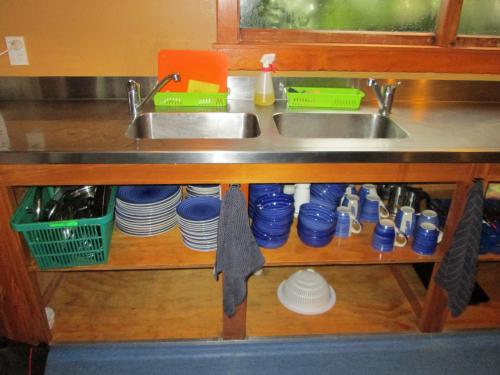 If organizing utensils in a drawer, try large open compartments, like the picture below from Hekerua Lodge, rather than the plastic organizers. The latter are rarely large enough for the amount of cutlery in a hostel.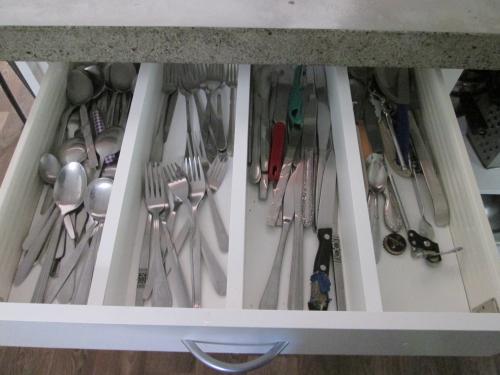 Another idea if you are a very large hostel is something like Downtown Backpackers has done, with colorful buckets for utensils: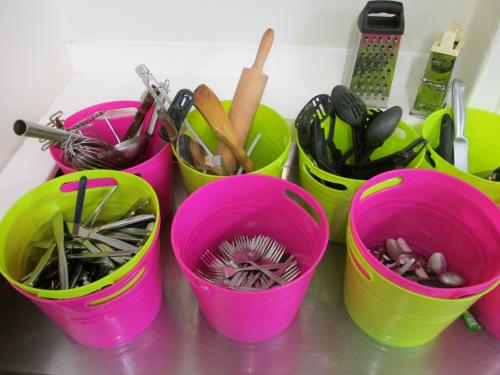 Regularly sharpen your kitchen knives. Not only does this make backpackers much happier, but it's also actually safer.
I've seen various items such as corkscrews, bottle openers, can openers, and mini cookbooks chained or 'anchored' to something (giant rock, cabinet, etc) to keep them from disappearing. If there is an item you are constantly replacing, consider giving this a try.
Put simple 'how to use' directions on the microwave. It may seem obvious but many microwaves differ, and I constantly see people asking each other or reception 'Umm…how does the microwave work?' Something simple like: 1) Press 'Time Cook' 2) Enter cooking time 3) Press 'Start' could save a lot of confusion.
At Adventure Queenstown, several refrigerators are organized by room. Each fridge has 3 or 4 dorms names on the front. Having the guests store their food by room makes fridge clean out day slightly easier.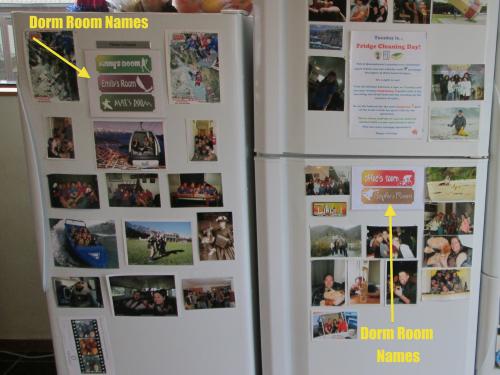 Many hostels had pre-printed sticker food labels, such as the ones below from Around the World Backpackers in Christchurch. This helps ensure guests will not only label their food, but also do it properly (i.e. name AND date)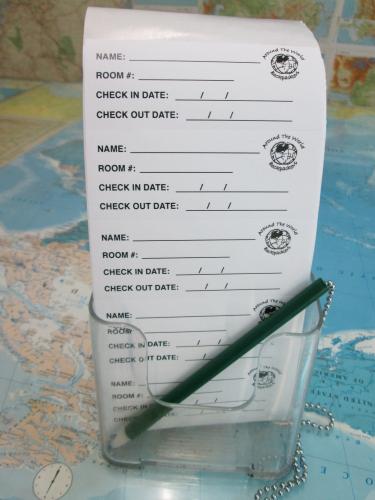 Use mini white board plaques or a strip of white board material across the dry storage food cubbies. Guests can write their name & date on the spot above their cubbie. Sydney Harbour YHA has done this, and it has prevented the sticky residue caused by labels. I've seen chalkboard paint used at several hostels in all kinds of ways; perhaps this could also work.
Several hostels have separate storage areas for dry food. Storing items separately rather than above the kitchen counters can help prevent food, sauces, etc from spilling onto the clean surfaces. Storing food below the counters can also help this, such as at Oaklands Lodge in Auckland: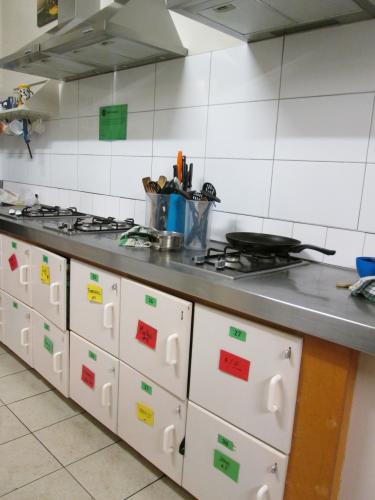 However, having the area away can also help with traffic flow and keep the kitchen less congested, such as at Bounce Sydney: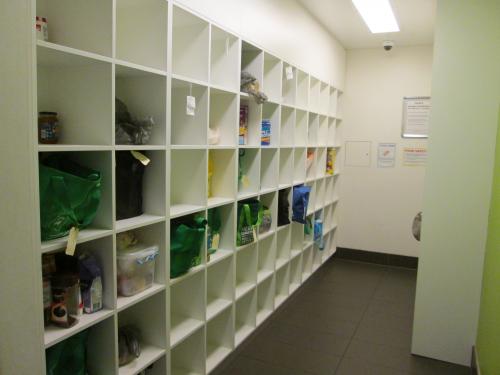 A couple hostels had eggs for sale in the kitchen as part of an honesty system, such as in the picture below from Jack in the Green in Hanmer Springs. Other hostels had similar systems for tea, coffee, and beer. Great for backpackers who don't want to buy large quantities of items at the store.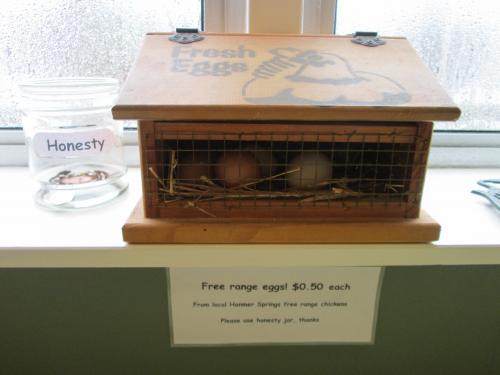 If you offer storage containers for leftovers, whether cheap plastic containers purchased at the store or just reused yoghurt containers, consider some type of pairing system for the containers and the lids. This way you don't end up with a bunch of containers without matching lids or vice versa cluttering up your kitchen storage.
One idea I had for this (but haven't tried yet) is writing the same number with a permanent marker on both a container and the lid that matches it. Then if you have an entire drawer full of containers and another drawer full of lids, you can quickly look for the number that matches instead of trying several first. (i.e. You pick up container #8? Look for the lid #8). More importantly, it also makes it easier to go through periodically and get rid of any containers or lids who are missing their matching number. (Lid #8 is missing container #8? Out it goes).
A couple hostels I spoke to have a kitchen 'monitor' at night. This person routinely makes sure the kitchen stays clean and encourages guests to do their dishes (i.e. keeps the drunks from leaving their dishes and glasses everywhere) while also interacting with guests. This works well if the kitchen is also open to common areas, as the guests just see a staff person mingling rather than someone on 'kitchen patrol' to make sure they clean up.
Many hostels completely close off their kitchens at night for cleaning and safety reasons. Some guests get annoyed at this, as they can't access their food. One middle ground option I've seen it to keep the kitchen open at night, but completely shut off the gas. This helps prevent drunken fires, and guests can still get snacks.
The downside is, of course, that the kitchen can still be made into a mess before morning. However, I did see the after effects of a hostel kitchen nearly up in flames from someone cooking drunk, and understand why so many places close them off entirely.
What are your other tips & tricks for hostel kitchens? Sign in and comment below.
**I know many of you comment on these blogs on the site's FB page, which is great, but it would be even better to have the comments directly on here for everyone to read. Thanks for your input and helping to further our knowledge!**
Keep following along:
<< Tips & Tricks, Part 1: Reservations & Check In
>> Tips & Tricks, Part 3: Cleaning, Laundry, & Bathrooms
Just joining the show and don't know who I am? Check out my introductory blog post.
As always, send any suggestions, questions, or thoughts on the blog my way by emailing me here.
Peace & love,
Courtney
P.S. Don't miss out! Follow HostelManagement on Twitter if you would like to receive updates when new my blog posts are made.