While discussing cleaning with Gerti and Andy, the owners of lovely Old Countryhouse Backpackers, they told me about one particularly awful stay they had somewhere else. It wouldn't have been so bad in itself, except that it was filthy.
Gerti remarked that she felt like she was walking on egg shells the whole time because it was so dirty. She said that trip helped her realize just how important cleanliness was: Besides the obvious health & safety reasons, she realized that like her, many guests will never feel fully comfortable or relaxed if the place is not properly clean.
So, here are some tips & tricks for keeping your place tidy:
CLEANING
Hand towels (in kitchens, bathrooms, etc) should be changed daily but this can be easily forgotten. To help this, Adventure Queenstown put all of their towels on a binary color system (i.e. green one day, blue the next). This way it's easy to see if all of them were changed that day.
Andy at Old Countryhouse discovered that many of the scuff marks, gouges and damage to hostel walls was actually from staff accidentally hitting them while cleaning. He prevented this happening further by covering the end of mops, brooms, etc. with a tea towel and duct tape.
Even if you have a daily set time to thoroughly clean the kitchen, have a staff member spot clean it regularly throughout the entire day. It shouldn't take long, but will make a much better impression on your guests.
As one hostel owner said, "The kitchen should look just as clean for your guest getting up at 10am to eat breakfast as it did for the guest at 7am." First impressions are happening all day at the hostel, including with cleanliness.
As I also mentioned in the Kitchens post, a couple hostels I spoke to have a kitchen 'monitor' at night. This person routinely makes sure the kitchen stays clean and encourages guests to do their dishes (i.e. keeps the partiers from leaving their dishes and glasses everywhere) while also interacting with guests. This works well if the kitchen is also open to common areas, as the guests just see a staff person mingling rather than someone on 'kitchen patrol' to make sure they clean up.
RECYCLING
At the YHA in Nelson, the recycling bins aren't physically labeled with 'plastic', 'paper', etc., rather the wall above them is. This way they can be taken to be washed, changed, etc with another easily popped in its place.
Label recycling not only with 'plastics' or 'cardboard', but pictures or descriptions of what can/cannot go in, such as in the pictures below from Around the World Backpackers in Christchurch. This varies widely by country and even city.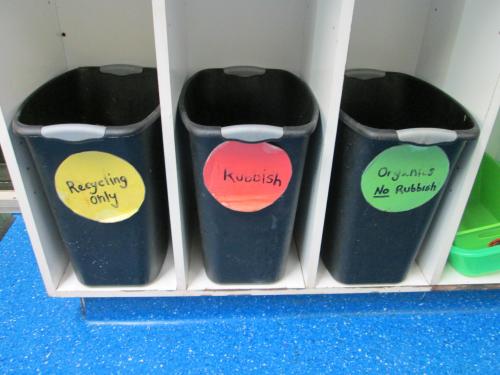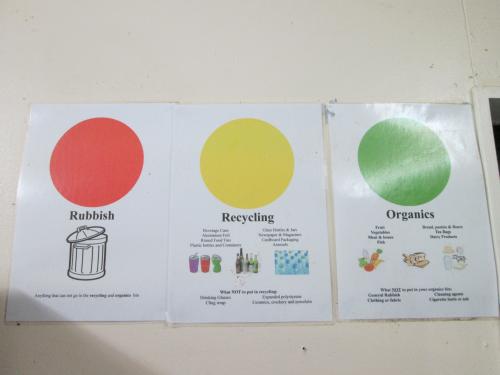 LAUNDRY
If it is not included in your laundry price, sell individual sachets of washing powder at reception. Another option besides commercially bought sachets is making your own mini ones out of plastic baggies and a bulk box of laundry soap .
Have plenty of clotheslines AND clothespins in a garden/outdoor area if possible. It allows guests to save money on drying and is better for the environment.
Have lots and lots of hooks in rooms. This is for multiple reasons, but in this section one reason could be the ability to hang up small amounts of washing if clotheslines aren't available.
BATHROOMS
Base Magnetic Island had a toiletries collection tray in the girls' bathroom. There was a small sign asking guest to collect their items, otherwise they would be taken 24 hours later. Though reception is often used for general lost and found, I thought this was a great idea for toiletries. The bathroom is the first place a guest will return to look for their left behind shampoo, so why take it straight to reception?
One hostel gave me the tip that one large mirror gives you more mirror and is quicker to clean than 2 separate mirrors nearly side by side.
If just starting out or doing major renovation, install toilets that are attached to the wall and sit up off the ground completely. The YHA in Nelson has these, and it makes cleaning much easier.
Good water pressure should not just be a luxury. Men- the lower the water pressure in a shower, the longer it will take a girl to wash her hair. You will not necessarily save water with low pressure. I promise. You will, however, end up with a cranky guest rockin a half washed do.
Adventure Queenstown put wooden bath mats over towels in front of the showers. The towel absorbs the water, while the mat still provides a dry place to stand. Great if you're the third person to take a shower. No one likes to stand on a soggy towel.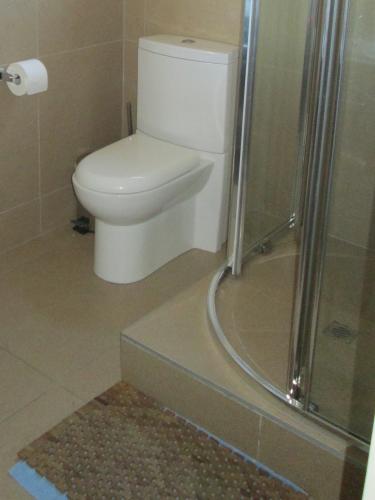 Several hostels had hair dryers permanently installed in the girls' bathrooms. This was convenient for both guests and staff: guests got an extra amenity; staff didn't have to be bothered at reception to hand them out. Bounce Sydney also had a hair straightener and tampon machine available: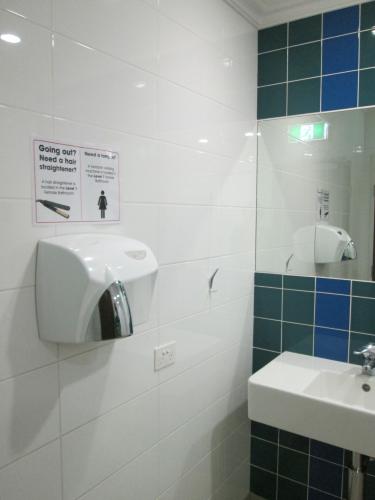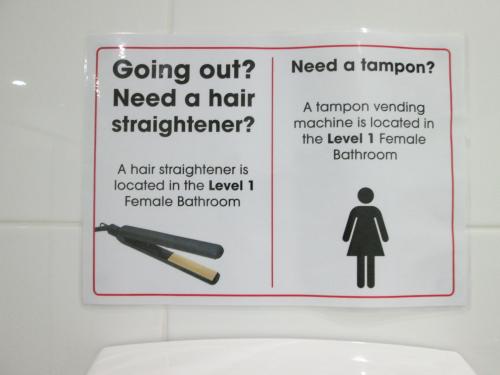 What are your other tips & tricks for cleaning, laundry and bathrooms? Sign in and comment below.
**I know many of you comment on these blogs on the site's FB page, which is great, but it would be even better to have the comments directly on here for everyone to read. Thanks for your input and helping to further our knowledge!**
Keep following along:
<< My last post: Tips & Tricks, Part 2: The Kitchen
>> My next post: Tips & Tricks, Part 4: Rooms
Just joining the show and don't know who I am? Check out
.
As always, send any suggestions, questions, or thoughts on the blog my way by emailing me here.
Peace & love,
Courtney
P.S. Don't miss out!
if you would like to receive updates when new my blog posts are made.