Framejacking refers to sending someone a link that hijacks the destination website with an HTML frame. The two most common ways that links are framejacked are with ow.ly (Hootsuite) and su.pr (Stumbleupon). Framejacking is considered annoying by many Twitter users -- here's why:
[UPDATE, May 8, 2010: Hootsuite has modified the program so that you can choose not to framejack your links. See this post.]
In the screenshot below I've gone to the BBC homepage through an ow.ly link. Notice that the URL doesn't say bbc.co.uk; it says ow.ly. And there is an annoying ow.ly "toolbar" at the top of the webpage that is not part of the BBC. The BBC webpage has been framejacked by ow.ly.
I've clicked on a link from BBC and ended up on CNN.com, but since the BBC URL was framejacked by ow.ly, my browser is now confused. The top of the browser claims I'm on BBC.co.uk, the address bar says that I'm still on ow.ly, and the webpage is CNN.com. The annoying toolbar is still there. If I want to send the CNN page to someone and I copy the URL from the address bar, when they click on the ow.ly link they will end up seeing the BBC.co.uk page. Very confusing.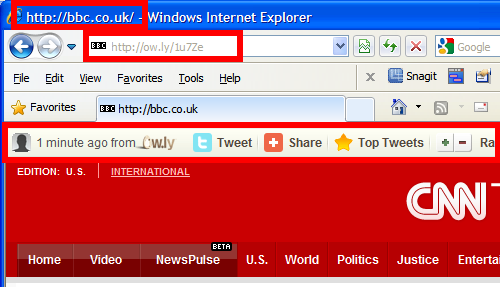 Searching around the Web shows that many people hate ow.ly, su.pr and any kind of framejacking: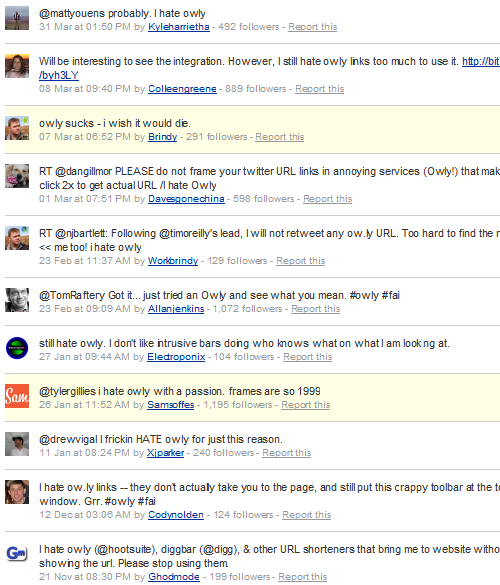 Framejacking Annoys Followers
Basically, framejacking annoys followers, and many people will avoid clicking your links, refuse to retweet your links, or even unfollow you.
Hootsuite claims that individual users can turn off the framejacking bar, but in practice, it's not that easy. Every time cookies are cleared in the browser (every time I close my browser), the framejacking bar returns.
The solution:
The only time links get framejacked on Twitter is when people shorten their URLs with services like Hootsuite (ow.ly) or StumbleUpon (su.pr). You can avoid framejacking by not using those services to shorten URLs. A better way to shorten URLs is with bit.ly.
If you want to use Bit.ly with Hootsuite, there is a free
Greasemonkey script that will do it. Other good options are to use the Bit.ly bookmarketlet or switch to CoTweet -- an excellent tool for companies who manage multiple twitter accounts.
Do you agree or disagree? Leave a comment below.
UPDATE: another great post about the evils of framejacking here.