It's no secret I want to open up my own hostel in the next few years. I'm not even positive where it will be yet, but I know it will be great. My mom always joked they overdid the self-esteem thing with my generation, but why shouldn't you follow your passion with confidence? I've recently met two hostel owners who are doing just that: Paul from Cactus Jack Backpackers in Rotorua, NZ and Nick from Beachside Backpackers in Port Macquarie, Oz. As the quote goes, "If you don't build your dreams, someone will hire you to help build theirs."
Nick is a long time backpacker, traveling on and off for the last 10 years, who wanted to turn a passion into a business and way of life. Paul, on the other hand, had years of experience in unrelated fields but was looking for an enjoyable business. Both at quite different starting points, but with the same goal in mind: make the best backpackers hostel possible.
This seemed easy enough to Paul, who fell in love with wild-west themed Cactus Jacks the first time he saw it. However, he was quick to admit it was a blind love, and the hostel came with a whole slew of problems he had not been informed of. He said there were so many issues with both the building and the books that he was practically conned into the business. But then he just laughed with a 'What can ya do?' attitude.
I was a bit surprised at Paul's attitude about this- if I felt tricked into something, I'm not sure I'd be so easy going. I mean, I still get upset at an oatmeal raison cookie for posing as chocolate chip, as if those poor raisons had any choice in the matter. If i was me, I would have stayed a grape and become wine, but whatever. Paul clearly doesn't have as much emotional attachment to situations as I may from time to time, and in usual tradition on this trip, I was given valuable advice. This time about letting go of what has already happened and focusing energy on positive progression. How can you move forward if you are still holding on to past negative emotions?
Nick's experience was somewhat different. He described the backpackers as "run by an elderly woman, coated in light blue paint and looking like a kindergarten" when he first stumbled upon it. Luckily Nick saw more potential than love, bought the place, and is already whipping it up to be a fantastic backpackers. Five year old school children and cat drawings not included. Though in a wee bit of school irony, every door is now coated with chalkboard paint.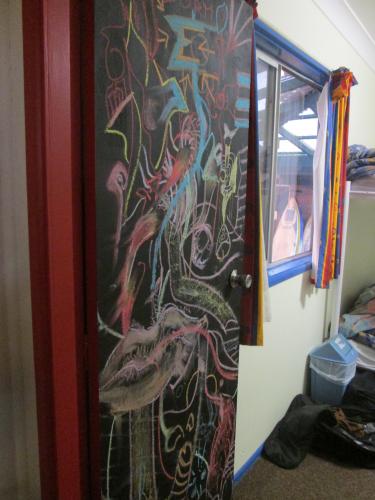 A door to a dorm room at Beachside Backpackers
Right now they are covered in cool chalk drawings, but I'm sure it's only a matter of time or beer before something incredibly obscene and funny appears at 3am one night. Why have a hostel if you can't have a little fun? Nick clearly thinks so- the cities he picked out for his time zone clocks have some interesting (and real!) names.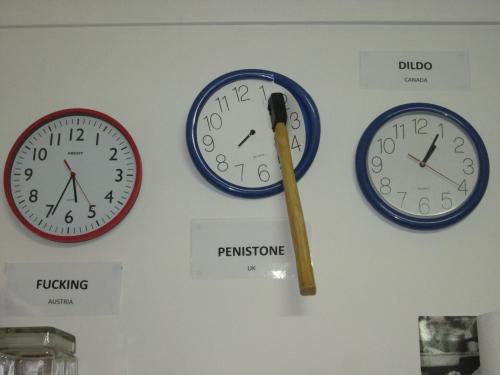 Yes, that's right. Fucking, Austria, Penistone, UK, and Dildo, Canada all exist. Perhaps I'd finally send postcards if I stumbled upon these gems in my travels.
After so many years on the road, Nick obviously has a lot of experience in traveler wants and needs. We were talking about customer service, and he was sharing his mindset of always trying to help a guest out even if it costs you a few bucks here and there. For instance, when he found the hostel, the owner charged for wifi. One day the machine that charged broke down. Instead of fixing the machine or just giving wifi away free (since she was already paying for it anyway), she just stopped having wifi at all. Besides the fact that this is straight up shitty customer service, I can't think of an easier way to lose customers. Love it or leave it, today's travelers want to stay connected. They'll go use someone else's wifi to google accommodation with internet faster than you can say carrier pigeon.
Having never been a backpacker, Paul has had to do more of a learn-as-you-go approach. Not only is he learning a whole new industry on the business side of things, but he's had to figure out what backpacker life is really about as well. I really admired his willingness to learn from his guests. If you truly listen to and observe people, you can gain invaluable feedback for your business. Same with being open to ideas and suggestions- I think it's great when pride doesn't get in people's way of success as it so easily could. Or worse, those people who ask for your advice or opinion only to ignore it, or even better, get offended. "I'm having problems with people leaving stuff laying around the hostel, any ideas?" Sure, try putting in lockers in the dorms, so people don't have to worry about their stuff being nicked. "Are you saying I take in thieves as guests??" Um… (facepalm).
At one point Paul said 'I want to make this the best hostel in the world'. For a second I wanted to laugh a bit, not because I didn't think it was achievable but it's just a bit of a tall order. Before I could, he said "You have to aim high right? Why not aim to be the best!" Then I stopped and thought 'Damn, you're right. Why would you want to aim lower than being the absolute best?' Just ask the guy at the bar whose 6 vodkas have convinced him he was most likely Bradley Cooper's identical twin separated at birth. He may not have 100% success hitting on the hottest girl there, but at least his liquid confidence is encouraging him to try. (Note- I am not endorsing downing a bottle of vodka and trying to fix your hostel. Though knowing this industry, I wouldn't put it past any of you to try. Just be sure to call me, too.)
Paul has had Cactus Jacks for 4 years now and it has truly been a labor of love to turn the place around. He said the first couple years were really rough but finally they are getting there. He has consistently reinvested into the business to improve, and no matter what stage the hostel was in, he always worked to let its personality shine through. I can say without a doubt Cactus Jacks is one of the most character filled hostels I've ever been too. Paul's quirky enthusiasm about the place as he shows you around certainly does add another level to it, and you can tell he really does want it to become the best hostel you've been to.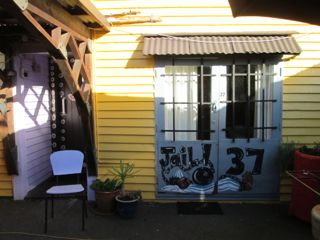 Who wouldn't want to stay in a jail?
Nick has only had Beachside Backpackers for one month, but started changing and fixing things immediately. Though generally he has a very relaxed approach, his goal is the same: to share his passion for traveling and make the ultimate backpackers. He even quelled some of my concern about eventually opening up in a non-destination city with short stays. He said he originally thought people would just come for a day or two to Port Macquarie and move on, but the hostel has already become a place where people get 'sucked in' and stay for days or weeks. He said "Create a great place, and people will want to be there." I couldn't agree more, and think he is already well on his way to his goal of creating one of the best backpackers on the Aussie coast.
I think this is really important thinking, yet I'm not sure how many people are really running their hostels with a goal like that in mind. No, it's not realistic for everyone to think their hostel will be #1 in the world (unless perhaps you live in Lisbon. Seriously what are you guys doing over there??). But why not have that as a mental guiding light? You're only selling yourself short if you don't aim high. And if you're not aiming high, do you really believe in what you're doing? One of the things I keep hearing from different owners and managers, often of of top-rated hostels, is 'We don't mind sharing ideas and advice because we trust in what we're doing; we have confidence in our product'. If you don't believe you can create the best hostel and guest experience in the world, why should your guests?
Are you a hostel owner who had to turn around an ailing hostel? How did you do it? Do any of you actively think 'We want to be the best hostel in our city/country/world' in your decision making? Sign in and comment below.
**I know many of you comment on these blogs on the site's FB page, which is great, but it would be even better to have the comments directly on here for everyone to read. Thanks for your input and helping to further our knowledge!**
Keep Following Along:
<< My previous post: Love Your Job? Make Sure Your Guests Know It!
>> My next post: Sydney to Siem Reap: A Hostel Manager's Journey to Give Back
Just joining the show and don't know who I am? Check out my introductory blog post.
As always, send any suggestions, questions, or thoughts on the blog my way, by contacting me here.
Peace & love,
Courtney
P.S. Don't miss out! Follow HostelManagement on Twitter if you would like to receive updates when new my blog posts are made.