After a few fun and crazy nights staying in the center of Sydney, I headed to Coogee Beach House last Sunday night. Coogee Beach is one of the main beaches in Sydney, nestled right next to its more infamous neighbor, Bondi Beach. I hadn't heard much about Coogee and was interested in checking it out. I also thought it would be nice to see how a little beach town right next to a big city would feel.
Some fellow travelers that knew of Coogee Beach House mentioned there were quite a few long term guests staying there. I wasn't sure what to make of this before I got there. I immediately thought of the 'relocator' issue many hostels in San Francisco deal with, and wondered if it was the same. [I will be writing about this separately later on, but a nutshell explanation: Housing is very expensive and difficult to find in SF, so many people relocating to the city from across the country stay in hostels as long as the limits allow while looking for apartments. Often these guests are not 'travelers' and don't easily fit into the hostel vibe. This can cause various issues for both the staff and other guests.]
What I found at Coogee Beach House was a very different situation. Rather than young graduates trying to relocate into the corporate world, it was filled with adventurous backpackers staying in one place for an extended amount of time before moving on with their travels. These guests were mostly on year-long work & holiday visas. The visa allows backpackers to do short terms jobs for a few months in one location, and fill in the time in-between with tourist travel. Some of them had jobs related to their previous trades, such as construction or hair styling. Others were doing whatever random job was available, such as working in a call center. These jobs allowed them the money to travel while experiencing the Australian culture and lifestyle more in depth. The biggest difference between this and the relocator situation in San Francisco was that these guests were travelers first, and long term-ers second. I personally think that makes a huge difference.
Even if those guests who are staying a few months are great people, it can still be a challenge for a short term backpacker staying only a few nights to fit in and feel comfortable. New guests can feel intimidated by long term guests since they often have a close relationship with the staff, solid understanding of the area, and unique bond among each other. I felt lucky that I didn't have that problem at Coogee Beach House. Everyone reached out immediately. I unfortunately wasn't able to meet with Dan, the owner, but almost before I could put my bags away I was given a tour by a long term German guest, who introduced me to the other folks in the common room. I watched from the sidelines for a bit and saw a great interaction between everyone, but wondered how open they were to new guests. It can be difficult to breach a developed group of friends, but very quickly they reached out and started asking who I was and what I was doing. Before long I felt like I was part of the group, to the point that I was a bit sad to be staying only one night.
I was also so into the natural vibe of hanging out with everyone in this room, I didn't think to take a picture while it actually had…people. So, use your imagination to add lots of friends and laughs into the morning after photo below. Ready...go! Pretty friendly place, eh?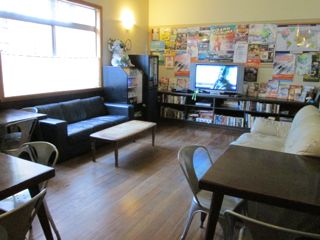 The atmosphere at Coogee Beach House was comfortable and cozy. Living up to it's name, it felt more like a home than a hostel. It seemed this actually came from the amount of long term guests there, and an emphasis on making a home together rather than a group of individual people crashing in the same place. While this type of atmosphere can be great for a hostel, I think it's also important for staff to be constantly working to bring in those on the sidelines. The only thing more depressing than being in a hostel where no one reaches out to each other is being in a hostel that feels like everyone is reaching out to everybody…except you. Nothing quite brings back the 'last kid picked for the kickball team in gym class' feeling like being ignored in a tight-knit hostel. So my small nugget of wisdom for this post: Even if you have a great place that everyone loves, keep reaching out to each of your guests, especially if you have a small, close community. It will make a difference to your newbie arrivals.
So once again, my expectations were exceeded. I had preconceived notions about long term stayers based on some of my negative experiences with them. But that was in another situation entirely. Here it actually worked very well. It certainly gave some of the homey atmosphere I find really special, while also embracing new guests as well. The long term guests were also very fond of Coogee, and unintentionally acted as promoters of the area while telling me all about it. From a management standpoint, this is great bonus marketing. From a guest standpoint, I felt like I was getting great info from those who knew best and wanted to stay longer. Especially with a beautiful beach only 30 meters around the corner, yet Sydney city center just a short 5km away.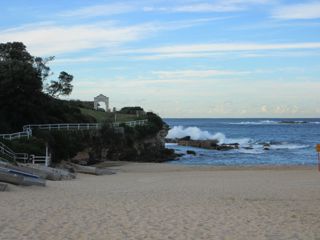 One guest I met had left Coogee for a month to go to a farming gig in another part of Australia. When I asked about going and coming back, she said she was sadder to leave the Beachhouse for that month than she was to leave her home in the UK for a year. No matter what type of hostel you have, when guests are sad to leave, you're probably doing something right.
What do you think? Do any of you own or run hostels that have a solid group of both short term and long term guests? Do you find they mix well? Any extra positives out of the interactions, or added challenges? Sign in and comment below!
Keep Following Along:
<< My previous post: How a Traveler's Pennies Can Become Hostel Dollars
>> My next post: Finding New Gems: My Time at Hekerua Lodge
Just joining the show and don't know who I am? Check out my introductory blog post.
As always, send any suggestions, questions, or thoughts on the blog my way by emailing me here.
Peace & love,
Courtney
P.S. Follow HostelManagement on Twitter if you would like to receive updates when new my blog posts are made.