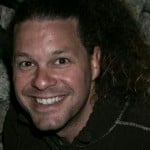 minimum stay is a good idea when you have lots of demand in your area, because it helps to reduce the costs associated with each guest. (ex. staff time needed to check them in and orient them in the city, laundry costs, housekeeping costs for making the beds, etc) It's also good for bolstering your atmosphere because people stick around long enough to get to know the hostel as well as one another.
If you don't have the demand to fill the beds on the weekends, then adding the minimum stay requirement might not help you so much. Do the people who book with you for one night usually extend their stay, or do they all tend to just leave after their one night? If you end up with a lot of one-night stays on Friday or Saturday night, then it would be worth running a trial to see if a two-night minimum would encourage people to stay longer or prevent them from staying with you at all.
Another way to play with the minimum stay is to apply it during periods when you offer promotional rates. This way you ensure that the guests who book the lower rate will stay for multiple nights and reduce your costs a bit.
Another tactic is to apply a minimum stay requirement on 3rd party booking sites without applying the same restriction to bookings made through your own site. This way you can still get the guests who are interested in your hostel, and you reduce your reliance on the OTAs in the process. This will take a little more work on your part because your website will need to clearly state the added benefits to booking directly with you. You will also need to either advertise this in your hostel or educate your guests personally so that the word of mouth will spread to other travelers that there are better booking terms on your own site.
In a seasonal hostel that I used to run we applied a two-night minimum for the whole season because we were full most of the time. For walk-ins we ignored the policy, because most of them would extend their stay for several nights anyway.