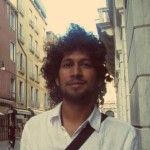 We've got a hostel that's approximately the same size and we survive with 4 cleaners (of course this varies from place to place depending on the type of hostel and the work ethic of your staff). Outsourced cleaning doesn't exist where we operate and so these staff members are permanent staff. Another point to bear in mind is that you will need to plan for redundancy (when people are sick or on leave).
- Irrespective of the number of rooms, our standard policy is that cleaning should be a 9-5 job (8-4 in our case).
- The common areas get cleaned first thing in the morning while people are still asleep.
- Around 11am, the cleaners start making their way through the rooms.
- Check-out is at 12pm so most of the room keys get handed in by noon and all rooms need to get done by 2pm (check-in). On average, each of our cleaners needs 30 mins per room. 
- We do another round of common area / common bathrom cleaning in the afternoon and then its end of day for the cleaners.