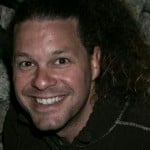 I have only seen it a few times, and I really like the idea. There are some nice models of bunk beds that have a double bed on the bottom and a twin on top. Chillout Lya in Istanbul has several of those that look really well made. In Portugal there was a hostel that pushed two regular bunk beds together and removed the guard rails between them to make a double bunk in the one of the dorms. That hostel doesn't exist anymore though.
Another hostel (I can't remember where I saw it right now) had wooden bunk beds with double beds for the top and bottom bunk. I would actually like to incorporate this into my hostel, but it would take up a lot of space in the dorms. I think the guests would really like it though.
Are you thinking about double bunk beds or just putting multiple regular double beds in the room?