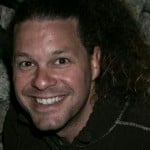 Offering two breakfasts is a great idea.
For the free breakfast you can offer just enough that your guests won't start the day with an empty stomach. Try something simple like:
Milk and cereal
Bread and jam
The paid breakfast could include things that cost you more money to provide like:
Sliced meat
Cheese
Fresh fruits and vegetables
Eggs
Bread rolls
Pancakes
Croissants or Danishes
Fruit tarts
Juice
If you advertise Free Breakfast, then people are likely to complain saying, "if you want anything more than crappy bread and jam you have to pay for it." On the other hand, if you advertise Paid Breakfast and then offer a limited option for free people will appreciate it more. ;)
I think this is a good way to offer something for everyone without spending a fortune.