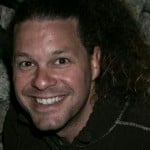 I have never run a hostel with a bar or café, but I have stayed in quite a few that pulled it off well.  
Smoothies and fresh juices will usually sell well, especially in hot climates.  You might consider running specials on those during breakfast hours.
I have been surprised how well gourmet tea sells, even when the hostel offers free tea bags in the communal kitchen.  If people think it's too hot, the tea can be iced and served cold.
Sandwiches may sell well, especially if food in your area is expensive or hard to come by, or if local vendors suffer from language barriers.  Selling complete lunch packages could be good too, especially if you also sell tours or if your guests tend to go on full-day excursions.  All of the ingredients in pre-made sandwiches go bad if they don't sell.  But if guests can choose their ingredients for a made-to-order sandwich, then individual ingredients may last longer.  Spreads like hummus, guacamole, garlic mayonnaise, pesto, or curry might help to make a simple sandwich seem more enticing. The choice of different breads or wraps may also be appreciated and increase sales.
Muffins, croissants, and cookies tend to be good sellers.  The smell of freshly baked anything is irresistible and draws attention to all of your food options.
Soups can be prepared easily and in large quantities, and they can be sold in combination with sandwiches or salads.  
Snack packs for people who just want a nibble might be good – maybe a combination of cheese, crackers, and veggies?