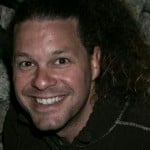 Having hand soap in the bathrooms is not only nice for guests, but it's necessary in order to maintain a sanitary environment. For my own sake and for the sake of my team's health, I definitely want my guests to wash their hands. Guests will use the hand soap as shower gel too, though, so if we don't mount a soap dispenser on the wall the cost of keeping soap increases.
Toilet paper should also be provided by the hostel.
As for shampoo, shaving cream, etc. it is reasonable to expect the guests to provide these things for themselves. What you could do is to collect all of the items left behind by guests and put them in a big communal tub where other people can use them too.
One possibility is to make a little shop and sell toiletries. That way you do provide the service, and you can provide a lot more variety, but you don't have to foot the bill yourself.