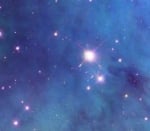 I don't have one, but here are a few ideas:
Inspect the rooms and see what housekeepers are missing, then put them on the list. Quick brainstorm:
corner-dirt on floors where the mop misses (see image)
spider webs and dust on ceilings and wall corners
window-shade dirt, especially this kind (I've seen these so dirty that you could see the dirt on the 4th floor window blinds while standing on the street.)
trash and dirt under the bed (might need to be moved to sweep, depending on the design)
trash and dirt behind other furniture
corners everywhere in bathrooms
under and behind toilet, all around toilet seat hinges
clean the dust on top of everything
dust off the lamps
dust off the wall boards and power sockets
dust off top of toilet water tank (depending on design)
around all the sink parts, including under sink
check inside any drawers
showers should be spotless
no hair on floors, showers, sinks
clean all mirrors and shiny things, like the faucets
see if there is anything missing from the room
check that all the light bulbs work
check that the signs on the wall still look nice
count the number of guests in the room and give final list to front desk
Tip for housekeepers: clean everything from top to bottom -- e.g., dust the dresser before sweeping the floor.
We used to set aside a certain number of rooms to "deep clean" every day, and rotate them so every room got an especially good cleaning about once per week.