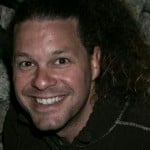 Sadly, I have never opened a hostel in Colombia, so I can't offer specific relevant advice.
That said, you will probably be best to establish a corporation similar to an LLC that would leave the business liable, and not you personally.  As I understand it, sole proprietorships tend to leave you exposed to too much risk.
I recently met a Colombian hostel owner traveling through Europe. His partners were running the business while he traveled, and they were not from Colombia. I got the impression that they needed a local to be involved in order to start up there, but I can't confirm that.
The idea of opening a US corporation and then moving down to conduct business in Colombia is interesting. If I were to take a guess (read: a blind stab in the dark with no solid basis to back up my gut feeling) I would imagine that it would be easier to open a Colombian company that to battle the bureaucratic red tape of operating a foreign entitty in a local market.  Do you know anyone in Colombia who would be willing to join your team on paper or in practice who could help you navigate the local business processes?