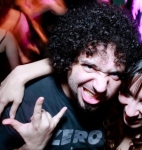 Before opening the hostel, I felt like using Adwords to promote it. my thought was that no other hostels here in sao paulo were doing it, and I was the new guy so I needed to promote myself. I didnt even had any reviews on hostelworld, so we thought people wouldnt come because of that...
Turns out completely different. Not having reviews brought lots of people here, because they knew it was a new hostel. Maybe the name helped aswell (its the coolest hostel name in the city).
But then during Carnaval time I decided to use Facebook Ads. I got US$ 100 from Visa for free to use for ads on facebook.
I put specifically for people IN brazil and that speaks english, because that was my target audience. Foreigners that was already in the country and I wanted to make them come to Sao Paulo after carnaval.
I spent all that money and a little extra, and didnt see any results. Many people clicked on the link, but not a single person came because of the ad itself.
So i gave up on that! And word of mouth is a lot more effective!