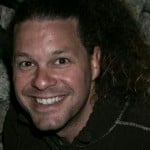 Some of the property management systems offer online check-in options that collect information before the guests arrive in the hostel. That doesn't completely eliminate the receptionist, but it reduces the time needed for each check-in.
St. Christopher's Inns implemented some automated systems in their hostel as well a few years ago. I'm not sure who provides their equipment. Here is some information about their implementation if you are interested: Self check-in for hostel guests
A low-tech version could involve putting room keys and a welcome packet with information inside safe boxes that guests could open with a code that has been emailed to them. Someone on the team would still need to prepare those keys and set the safe codes, but that could be done when it's calm on the night shift for the following day's arrivals. Of course this would be depend on how big the hostel is. Usually large hostels are more concerned about streamlining the check-in because they have a much higher flow of guests, so setting up large numbers of safes probably wouldn't be advantageous.