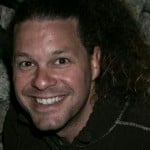 Hi Josh,
While the best way to hunt for the building is probably going to involve going to the area and looking around, you can probably find a lot of real estate listings online.  Even if you were already in the Baltics you would probably start your property search online anyway.  
You can also call real estate agencies in those areas to start looking for you even if you're still at home in the US.  Obviously you will want to go see any property they find in person before signing any deals, but there's no harm in letting the agents do some leg work to make your trip overseas as productive and efficient as possible.
Here is a link to a similar discussion you started about a year ago, and another one from several years ago about commercial real estate agencies.
Finding Hostel Properties
Dealing With a Commercial Real Estate Agent
Good luck with the hunt!