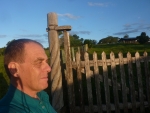 Kevin,
I own 2000 m2 beachfront lot in Little Corn Island, Nicaragua (https://www.flickr.com/photos/38151463@N04/albums/72157671209756941). No building yet. Municipal water and electricity.
A place with great touristic potential. Little Corn as a diving hotspot and Caribbean jewel.
I perfectly agree with your approach. I have no recent valuation for my property. A couple of years ago it was valued 100k US$.
My limitations:
No experience except for renting my apartment in Rome through airbnb (and similar agencies), with satisfactory results.
I could assure a yearly presence of at least 6 months.
A prerequisite of any initiative would be tranquillity, a place where guests could relax and go to sleep at chicken time.
I need partners. For experience, capital, and daily management.
Regards
[email protected], Skype: ccastellani