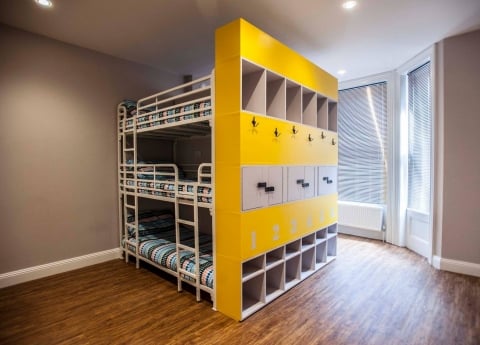 LOCATION, LOCATION, LOCATION!
Away from the finacial side of things as I am only giving some input from a practical side of things. I take it you have both been travellers and 'Got the bug', come home and thought BINGO! Well if you have travelled then you are wise to the up's and down's of the elevator car where hostels are concerned. We all know that when travellers book online [you might have done this too], they mostly want to be near to places of interest and don't forget some are new to travelling, don't speak the local lingo and find a bit of comfort in being near rather than far from centralisation. Via Hostels in Limehouse and Lewisham have spent so much on both property and renovations going over the millions mark, I know, we supplied all the hostel bunk beds, under bed storage lockers and mattresses etc for both properties. So if you ever need practical advice give us a shout, such things as legalities of fire escape pathways between bunk beds [700mm minimum]. If you have not travelled yourself, let me give you a free word of advice......Some hostel owners think the most important part of the hostel is the dorms, a far cry from the truth, the most important part of a hostel in our opinion is the social table! It is what differentuates between a hotel and a hostel, a place where travellers gather after a tiring day's exploring to share travel stories and adventures, all over a few beers! These tables concrete memories in many travellers minds and bond freindships, something a hotel could never hope to acheive.....
Good luck Paresh with your venture!
Will Lewis [ESS Global]